S K Mishra "An Icon Of Growth For The State"
Nov 16th, 2016 1:44 pm | By
ThenewsmanofIndia.com
| Category:
SPECIAL NEWS COVERAGE
S K Mishra "An Icon Of Growth For The State" Thenewsmanifindia.com
An exclusuve article:
The saga of Madhya Pradesh emerging as fastest developing has many folds. In the few years MP has emerged as the second biggest wheat producing state. For a state with a history of low agricultural GDP, Madhya Pradesh made commendable progress on this front. Today, an altogether different picture of Madhya Pradesh is visible. With successful organising three Investor meets state has become one of the fastest-growing states in the country. With the government extending a helping hand towards investors, the state promises to contribute extensively to India's growth story. The results are visible in the rapid progress the state has achieved. In order to boost the agricultural sector, MP Chief Minister Shivraj Singh Chauhan launched an elaborate plan for empowering farmers. Interest-free loans, a special bonus to wheat and rice growers, waiving off electricity bills and ensuring regular water supply for irrigation were some of the benefits extended towards the farmers. A host of social sector schemes such as the Ladli Laxmi, Mukhya Mantri Kanya Dan, Gaon Ki Beti Yojana and Beti Bachao Andolan underline the government's determination to resolve issues and offer a better lifestyle to the people.
But no mission can be accomplished without commitment, communication and accurate execution for any Government and its mission, vision and goals. An IAS Office of 1991 batch MP cadre has been an integral part of it and he is S K Mishra (Principle Secretary to MP CM). The state has set extraordinary example and set benchmarks of growth. Last 14 years of Shivraj Singh Chauhan's successful governance has able backup and committed support from brilliant officer like Mishra who served with best of their abilities in the eye and ear of Shivraj Singh Chauhan government. S.K. Mishra who has been althrough instrumental and a key role player in journey of Madhya Pradesh over all growth.

Mishra is considered as the most efficient bureaucrat and great helping hand to CM of MP. The list of SK Mishra's result orientation and committed work deliverance is too long. SK Mishra's integrity towards MP Government branding, communication and media management has been quite fruitful as under his supervision MP State could lodge its rising identity not only in the country but also in the world as well.
S K Mishra has been instrumental in marketing MP as a potential industry hub for national as well as international investors. Resent Global Investors Summits of Madhya has estimated an invest of more than Rs 1,00,000 crore which is under way.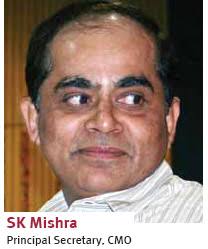 Mishra's hard work contribution in the grand success of The 10th World Hindi Conference (WHC) organised in 2015 jointly by Government of Madhya Pradesh and the Ministry of External Affairs, Government of India in Bhopal. Finally Mishra's dedication, commitment towards his duty yield hopefull result and the day of 10th September 2015 arrived and the conference begun by the hands of country's Prime Minister Narender Modi which added to it a great meaning. Finally this global Hindi conference turned out to be a big hit and all participants, invites and rest of the people who had come from different countries of the world they gave a big round of applause to Madhya Pradesh Govt. for setting an example in organizing such prestigious event and establishing the goodwill not only of MP and India as a whole.
not only bureaucracy but the entire MP state with expectation anticipates to take maximum benefit out of Mishra's visionery,dedicated and condusive office.