Striveing to set a "model of policing" for the entire country, Santosh Kumar Singh and his Bhopal Police team
Sep 17th, 2017 11:02 am | By
ThenewsmanofIndia.com
| Category:
SPECIAL NEWS COVERAGE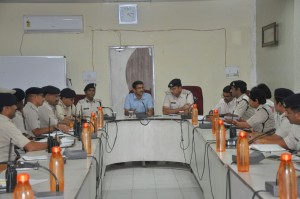 THE NEWSMAN OF INDIA.COM
(Special story by S. Umar)
Known for his quality of being upright cop Santosh Kumar Singh an IPS Officer of 2000 batch MP cadre who has took over recently as DIG Bhopal, he has a record in being instrumental most successfully in maintaining law and order with peace and harmony throughout his career. Santosh K Singh never hesitate to experiments that mostly turns out as quite positive and practical.
After taking charge as Bhopal DIG urban, Santosh Singh, seems to have some priorities up in his sleeves, taking up the policing in Bhopal with best effective way. In modern pattern of policing the effective tool to combat challenges that come before law and order and system is the adoption of hi-tech and most advanced systems. DIG Santosh Kumar Singh, in visionary guidence of Yogesh Choudhary the yougest IG (Bhopal Range) is aggressively taking unparallel initiatives to boost the policing methods in Bhopal.

On priority basis, Bhopal police is on the job 24×7 to curb crimes likes Dacoity, chain snatching, women safety and security, strict implementation of traffic rules by the citizens, making awareness about crimes against children and senior citizens. Now Bhopal Police is in constant touch with gurdians and school authorities amid keeping a continous vigil on schools and colleges to curb any untoward happening. In order to enhance the confidence Bhopal Police is into interactive sessions with common citizens of the city making them realise about their rights and responsibilities towards society at large. DIG and his team is aiming to protect the and conserve the image of Bhopal which known as Island of peace due to it's communal harmony.
On the lines of national capital New Delhi and metros like Mumbai, Pune, Hyderabad, a praising initiative has been taken up by Bhopal Police, now any citizen of Bhopal can approch and co-operate with police by just touching the screen of his smart phone as Bhopal Police is totally techno savvy now.
DIG Bhopal is on social media for help and facilitate the people of the town.
Here under are the details of Bhopal Police social media contacts
Twitter-@digpolicebhopal
Facebook – https://www.facebook.com/profile.php?id=100021913374304
Instagramm- https://www.instagram.com/digurbanbhopal/
Whatsapp 7049106300
email id digurbanbhopal@gmail.com
and finally
http://www.bhopalpolice.com/index.html
DIG Santosh Singh along with his team of efficient and energetic officers are putting their best effort to make it's department, a role model for the country. His praiseworthy team mates are Rajesh Chandel (SP, HQ) ), Siddhart Bahuguna (SP, South), Hemant Chauhan (SP-North), Dharamveer Singh Yadev (Adl. SP), and Hitesh Choudaury (Adl. SP), Rajesh Bhaduria (Adl. SP), Sameer Yadev (Adl. SP), Shalini Dixit (Adl. SP), Rashmi Mishra (Adl. SP Crime), Vivek Kumar (Adl. SP),and Vijay Dubey (RI)
Having a feel of building confidence by such initiaves many commoners, NGO's and social groups are coming forward to show their desire to contribute their services and cooperation to promote and implement these initiatives of Bhopal Police.