Top 10 Lieutenants of Narender Modi
Oct 4th, 2015 7:48 am | By
ThenewsmanofIndia.com
| Category:
LATEST NEWS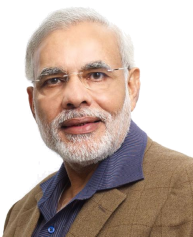 Thenewsmanofindia.com exclusive:
Prime Minister, Narendra Damodardas Modi has been in office since 26 May 2014. , Narendra Modi is known for his style of working which is quite unlike his predecessors. He seems very confined at one hand and straight forward on the other hand too. Modi's approach of working accredited him to become front face of BJP national campaign in the 2014 general elections, which led BJP to attain majority in the Lok Sabha for first time for any party since 1984. Modi being in office for now more than a year and a half, although nothing on ground as an achievement of Narender Modi govt. has been surfaced yet but the country has numerous expectations from him as he is the most favorite leader of nation.
THE NEWSMAN OF INDIA.COM brings you an exclusive story of Modi brigade or Team Modi. Its interesting to know the close confidents on whom Modi rely,lieutenants of Modi who strengthen his hands to take India on path of turning in to the most powerful and self reliance nation in the world, going though closely there are top 10 names comes up whom can be tilted as Modi Brigade or Top 10 mans of Modi. In this team Modi there are politicians, lawyer, bureaucrats and technocrats.
watch-out for who is No. 1 in the list of TOP 10 MAN OF NARENDER MODI
No.1
Amitbhai Anilchandra "Amit" Shah current president of Bharatiya Janata Party is considered as most trusted lieutenant of Modi brigade. He is a closest associate of Prime Minister Narendra Modi, and held a number of portfolios in the state government during Modi's tenure as Chief Minister of Gujarat. Shah was the BJP's in-charge for the India's largest and most politically crucial state Uttar Pradesh during the 2014 Lok Sabha elections. The BJP and its allies swept the entire state, registering their best ever performance, by winning 73 out of 80 seats. As a result, Shah rose to national prominence and was appointed as the party's national president in July 2014.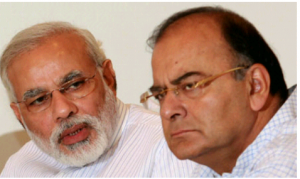 No.2
Arun Jaitley in political circle of Delhi is considered as a close associate and a front face of Modi in running NDA government. He is serving as Minister for Finance, Corporate Affairs, Information, and Broadcasting, in the Government of India and also as Leader of the House in the Rajya Sabha. In the 2014 general election, Jaitley was the unsuccessful BJP candidate for the Amritsar seat in Lok Sabha, defeated by the Indian National Congress candidate Amarinder Singh. A lawyer by profession, he is a Senior Advocate of the Delhi High Court.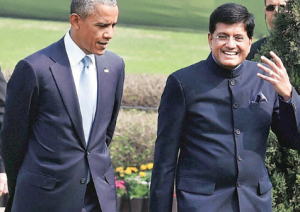 No.3
Piyush Goyal is also considered as a close man of Modi. Piyush Goyal is credited of conceptualizing the super hit slogan "ABKI BAR MODI SARKAR" during 2014 general election. He headed the BJP's Information Communication Campaign Committee and oversaw the publicity and advertising campaign of the party including the social media outreach for the Indian General Elections 2014.Goyal's contribution led to a conclusive victory for BJP and made Narender Modi as PM. Piyush Goyal is made the Minister of State with Independent Charge for Power, Coal and New & Renewable Energy in the Government of India. He is currently a Member of Rajya Sabha and was earlier the National Treasurer of the Bharatiya Janata Party (BJP). He has had a brilliant academic record – all-India second rank holder Chartered Accountant and second rank holder in Law in Mumbai University. He was a well-known investment banker and he has advised top corporates on management strategy and growth. He earlier served on the Board of India's largest commercial bank, the State Bank of India and Bank of Baroda. He was the minister-in-waiting for US President Barack Obama who visited India on 26th January, 2015.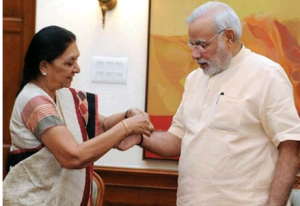 No.4
Anandiben Mafatbhai Patel, Chief Minister of Gujarat has been an old associate of Narender Mode and a trusted friend too. Anandiben Patel took oath as the 15th Chief Minister of Gujarat succeeding Narendra Modi, after the latter was elected as Prime Minister of India following the victory of BJP in the Indian general election, 2014. Patel's name was proposed and adopted unanimously at a meeting of the Legislature Party in the presence of Modi, who moments earlier had resigned as the Chief Minister. Patel is the first woman Chief Minister of Gujarat.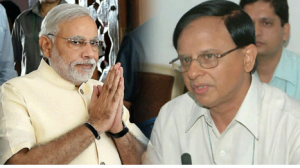 No.5
Former IAS of 1972 batch PK Mishra is among close associates of Prime Minister Narendra Modi. He is additional principal secretary to PM against a newly created high-profile post in prime minister's office (PMO). Mishra Gujarat cadre retired IAS was principal secretary to Gujarat CM till 2004 That Modi valued him a lot and Post-retirement, he was made chief of Gujarat Electricity Regulatory Commission (GERC).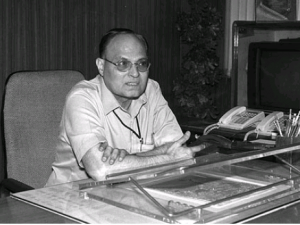 No.6
BN Navalawala is also called a team member of Modi's all time dream hi-tech India. ex-UPSC member and one of the advisers to erstwhile Gujarat chief minister Narender Modi and now to Anandiben Patel. He assist the ministry on all matters pertaining to water resources. This includes the NDA's dream project of inter-linking of rivers. Navalawala, who had also served as secretary in ministry of water resources during 2001-02, will be the chief adviser of this expert committee having two other members as advisers. The two members would be appointed in consultation with the chief adviser. Internationally renowned water resources expert, Navalawala has expertise in planning, design and execution of multipurpose water resources projects, flood management and economic planning & financial management of water resources. He is a fellow of the Institution of Engineers (India) and a Life Member of Indian Water Resources Society. He is also a Member of American Society of Civil Engineers. He has vast experience of working for various international organizations like the World Bank, FAO, UNDP and IWMI-Sri Lanka.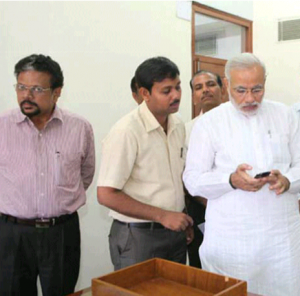 No.7
Kuniyil Kailashnathan known as K K is a 1979 batch IAS Officer of Gujarat. All time trusted man of Narender Modi, hi is Modi's task-master & crises-manager since years. Kailashnathan is Presently deputed as Chief Principle Secretary to Gujarat Chief Minister Anandiben Patel. Kailashnathan has served then Gujarat Chief Minister Narendra Modi's as Principal Secretary from 2013 to 2014. He is known for his chivalry and keeping himself as low profile even after being most respected bureaucrat in the state.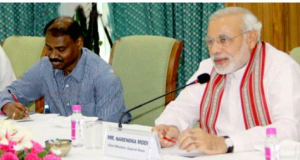 No.8
The name of Girish Chandra Murmu is also considered as a trusted and favorite officer of Modi since he was CM of Gujarat, Murmu a 1985 batch IAS officer of Gujarat cadre A 1985-batch IAS officer of Gujarat cadre, Murmu was the Principle Secretary to Modi. After Modi come into reign Murmu was amongst luckiest officers of Modi who was called Delhi so early. Presently Murmu is Additional Secretary, Department of Expenditure, Ministry of Finance
No.9
Vipul Mittra an IAS Officer of 1986 batch Gujarat cadre, is presently posted as Director General of Sardar Patel Institute of Public Administration. Vipul Mittra is all time favorite man of Modi. he has been instrumental in image building of Gujarat as tourism hub. On the choice of then CM of Gujarat Narender Modi, Mittra roped-in superstar Amitabh Bachchan for tourism promotion of Gujarat.
Recently Prime Minster Narender Modi has met 20 successful candidates from Gujarat. It was led by Vipul Mittra. This time the highest number ever from Gujarat to make it to UPSC. Traditionally Gujarati youth prefer business. PM Modi had given mandate to Vipul Mittra IAS to train Gujarati youth to get into IAS. It is to be noted that Vipul Mittra who has turned around Tourism in Gujarat state is now turning around training and induction as Director General and Principal Secretary Training Gujarat (SPIPA).
No.10
Modi's trusted officer Sanjay Bhavsar is like eyes and ears of PMO He was Officer on Special Duty (OSD) in Modi's office in Gandhi Nagar Known as an excellent manager Bhavsar had overseen Modi's public meetings, speeches, media interaction and public relations. He is in-charge of Modi's war room set up at his official residence during polls. He was an integral part of the Modi's CMO. It was believed that he knows who the PM is fond of and who he likes to avoid, the journalists he likes and the ones he doesn't,