Abrar Ahmed appointed Principal Chief Commissioner of Income tax Delhi
Jan 5th, 2017 10:59 am | By
ThenewsmanofIndia.com
| Category:
LATEST NEWS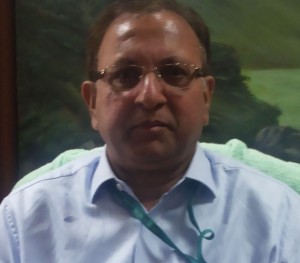 Abrar Ahmed, who is an IRS officer of 1980 batch who is Principal Chief Commissioner of Income tax (MP&CG) has been transfered and posted as Principal Chief Commissioner of Income tax national capital Delhi. He has taken the charge in Delhi.
Abrar Ahmed has been credited as most upright officer in IT dept. Under the headship of Abrar Ahmed MP & CG revenue collection in the last years had shown remarkable growth which has given an indication of collection potentiality in this region if it is with accuracy backup with targeted direction
As a head of MP and CG Abrar Ahmed was solely responsible for supervising Chief Commissioners, Pr. Commissioners, Commissions, Addl. Commissioners, Asstt. Commissioners and ITOs, Fiscal Administration including assessment, collection and recovery of direct taxes, survey operations and had a target of Rs.5965 crores during the last current financial year.
The present Budget Collection scenario of MP, CG Budget target which is fixed for MP & CG is at Rs. 19.237 Cr. Which is 17.83% more than the actual achievement of last year. Till date Rs. 9006.5Cr. has been collected This region has put more efforts in the area of TDS collection to achieve the budget collection. TDS growth rate is 12.74% as against 11.31% growth rate for All India. As of now, the department under the visionary supervision of Principal Chief Commissioner of Income tax (MP&CG),Abrar Ahmed has collected Rs. 5527.6 Cr the annual target of Rs. 8264/- Cr. So far In order to achieve the budget collect target the department is regularly monitoring advance tax collection. But the two main companies NCL at Jabalpur and SECL at Bilaspur are not paying taxes as paid in the corresponding previous year. Short fall on part of both the companies comes to Rs. 687 cr. However, the total budget collection of CCIT , Bhopal region is on date without NCL shows a growth a growth rate of 2.3% than the preceding year.
The other key positions wherein Abrar Ahmed has served with utmost dedication and result orientation are as follows
In the past Abrar Ahmed has served pan India in various reputed position, before his present position he was the Chief Commissioner of Income tax-III, Mumbai (from. Nov. 2014 to June, 2015) and he served as Chief Commissioner of Income tax-VI, Mumbai (from May 2014 to Nov. 2014), and as Chief Commissioner of Income tax-V, Mumbai (from Dec. 2013 to May
2014) he was Chief Commissioner of Income tax-XI, Mumbai (from June 2013 to Dec. 2013) also as Chief Commissioner of Income tax-IX, Mumbai (from January 2013 to May 2013)
Managing Director of National Minorities Development & Finance Corporation
(NMDFC)(A Govt. of India Undertaking) (Joint Secretary to the Govt. of India level post)