Airports Authority of India participating in World ATM Congress
Mar 10th, 2016 7:23 am | By
ThenewsmanofIndia.com
| Category:
LATEST NEWS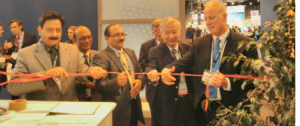 New Delhi, 9th March, 2016 : Airports Authority of India is participating in World ATM Congress at IFEMA exhibition Hall, Madrid. AAI is a leading ANSP service
provider and has taken a lead in implementing various CNS-ATM Initiatives in ASIA-Pacific region. The exhibition stand of AAI was inaugurated by Lee Pang, Regional Officer (MET), ICAO on 8th March, 2016. Also seen in the picture
are S. V. Satish, Executive Director (IT), S. C. Badola, Jt. GM (ATM),R. Bassi, Jt. GM (CNS-P).
Lee Pang, Regional Officer (MET), ICAO inaugurating AAI's stand at ATM World Congress, Madrid (Spain)
1.IMPLEMENTATION OF " GPS AIDED GEO AUGMENTED NAVIGATION (GAGAN)": India has implemented GPS Aided Geo Augmented Navigation (GAGAN) which provides very precise navigation to the entire Indian airspace and capable of providing seamless Navigation Service to neighboring
countries. GAGAN system was certified by DGCA for APV-1 operations on 21st April 2015. India is the first country in the world which has established
Satellite Based augmentation system that can provide Approach with Vertical Guidance services namely, APV1 for landing at qualified runway ends in equatorial ionospheric anomaly region with its unique ISRO –MLDF Iono-Model
for the region developed and validated for GAGAN. GAGAN is interoperable with EGNOS & MSAS providing seamless service from West to East.
2. IMPLEMENTATION OF AIR TRAFFIC FLOW MANAGEMENT SYSTEM:
India has taken lead in installing Central-Air Traffic Flow Management System (C-ATFM) to balance the Traffic versus Capacity at different Airport. AAI is willing
to share their experience and plans to implement ATFM system uniformly in collaboration with other neighboring states. Representatives of AAI present at World ATM Conference will be willing to share their experience in populating
concept of Air traffic flow management system in Asia-Pacific region.
3.AERODROME SAFEGUARDING AUTOMATION SYSTEM (ASAS): ASAS has been implemented at more than 100 airports in India for accepting online application for safe and expeditious height determination. It carries out automated calculations for Aeronautical Ground Aids (AGA), Communication,
Navigation and Surveillance (CNS) and Procedure for Air Navigation Service-Operations (PANS-OPS) criteria.ASAS ver. 2.0 was launched in December 2015.
4. IMPLEMENTING COLLABORATIVE DECISION MAKING APPROACH
AT VARIOUS AIRPORTS THROUGH AOCC: The ACDM system works on the
concept of calculating Target Startup Approval Time (TSAT). Departures starting up at TSAT, will reach holding position in optimized timings so as to depart
without congesting the holding position. This system calculates TSAT automatically through a complex algorithm which takes into account the runway handling capacity, arrival congestion, runway closures, dynamic Target off block times and variable taxi times. AAI has acquired lot of expertise in implementing such CDM solutions under different configuration and ready to share their experience with other ANSP.
5.IMPLEMENTATION OF ATC AUTOMATION SYSTEM AT VARIOUS AIRPORTS: AAI has implemented ATC Automation system at more than 44 Indian Airports and gained a vide experience in this particular Area. AAI has worked with different vendors like Raytheon, Selex, Indra, & Nav. Canada and learned the effective way of implementing such projects at a most cost effective
way which can provide maximum Operational efficiency that enhances Passenger safety.
AAI IS WILLING TO SHARE THEIR EXPERIENCE WITH OTHER ANSPS
WITH AN OBJECTIVE OF ENHANCING COLLABORATIVE APPROACH FOR
IMPLEMENTING FUTURE CNS-ATM SYSTEM