An Unprecedented Journey of GNFC's Turnaround "Pride of India" (MD's INTERVIEW)
Mar 11th, 2018 12:40 am | By
ThenewsmanofIndia.com
| Category:
LATEST NEWS
(THE NEWSMAN OF INDIA.COM)
Gujarat Narmada Valley Fertilizers & Chemicals Limited. (GNFC), is a joint sector enterprise promoted by the Government of Gujarat and the Gujarat State Fertilizers & Chemicals Ltd.(GSFC). It was set up in Bharuch, Gujarat in 1976. GNFC today has extended its profile much beyond fertilizers through a process of horizontal integration. Chemicals/Petrochemicals, Energy Sector, Electronics/Telecommunications and Information Technology form ambitious and challenging additions to its corporate portfolio. GNFC has an enterprising, strategic view towards expansion and diversification.
It is said that no organisation can achieve its objectives and goals unless its command is in the right hands, this idiom suits to someone who is basically a bureaucrat, owning an extraordinary conviction and commitment, he has led his organisation to that pinnacle where the highest echelons of power like Prime Minister Narendra Modi even is obsessed by its magical growth.
He is non other then Dr. Rajiv Kumar Gupta who is an Indian Administrative Service Officer of 1986 Batch. Dr. Rajiv Kumar Gupta is the Additional Chief Secretary (L&E) GOG, Govt of Gujarat. He is the Managing Director of GNFC Ltd.
E
Dr. Rajiv Kumar Gupta with vast national and international professional experience he has held various senior positions like Collector & District Magistrate, Executive Director of Sardar Sarovar Nigam, Managing Director Tourism, Secretary (Water Resources), Commissioner (Higher & Technical) Education etc. He has also been Advisor in GAP Project, Prime Ministry, Turkey. Currently he is Principal Secretary, Climate Change Department, Government of Gujarat which is first of its kind in whole of Asia.
Dr. Gupta is a Gold Medalist and Ph.D. (International Law), in addition to having done
specialized courses in Law, International Trade and Environment from United Nations
University, Tokyo and University of Melbourne. He has also been associated as an expert on' Water Law' with Institute of International Law at International Court of Justice, The Hague, Netherlands.
THE NEWSMAN OF INDIA.COM In an exclusive interview with Dr. Rajiv Kumar Gupta, the Managing Director of GNFC ltd. Dr. Rajiv Kumar Gupta shared his experiences of an unprecedented journey of GNFC's turnaround, following are the excerpts :-
"THE NEWSMAN OF INDIA.COM" GNFC today is a global brand name. Your comments?
Dr. R K Gupta:- GNFC has been making significant progress as an organization for the past few years and has been able to establish itself as a global brand name. This has been made possible by sheer perseverance, burning desire to progress and concerted efforts put in by our dedicated workforce. The company has come a long way from a huge loss of INR 452 crore in FY 2014-15 to the ever highest PBT of INR 715 crore in FY 2016-17. However, I believe that the financials form a small part of a larger story.
The company has seen a turnaround not only in terms of financials but also in the way of its working by
adopting prudent, efficient and pragmatic methodologies. Till a few years ago, GNFC was one of the
& "also runs" kind of an entity, confined within certain boundaries. It has been my modest endeavor to give wings to GNFC to explore uncharted territories and I am happy that we have succeeded to an extent. But then it's a work in progress and we are striving hard to truly make it a global entity.

"THE NEWSMAN OF INDIA.COM" Our Prime Minister quotes the success story of GNFC often. It's so close to his heart?
Dr. R K Gupta:- We are humbled and truly obliged to Hon PM for not only appreciating our efforts but also for inaugurating our ambitious Neem complex. It gives a lot of boost to our resolve to continuously better our records. When our Hon PM gave the clarion call of Neem coating 100% Urea, we were first off the block and literally hit the ground running. Along the way, Neem project evolved and brought in far reaching benefits for all the stake holders. In a short span of three years, it has helped 4.5 lacs rural
women to earn extra income of INR 45 Crores. The impact which our Neem Project has created by the
upliftment of marginalized and downtrodden is bound not to go unnoticed. It is natural for Neem Project to be close to Hon. PM's heart, since he regularly urges and believes in working for the poor and downtrodden. This is unique business model based on the modern management concept of "Shared Value creation" and in the words of Hon. PM himself, "a win-win situation." GNFC has also spearheaded the cashless drive in the country and has found special acclaim by the Hon. PM. Spearheading the Cashless drive and Digital India initiative, GNFC has adopted cashless transactions for fertilizer sales and in its township. We have sold fertilizers worth over INR 125 Crores to more than 3 lac farmers through cashless means. GNFC Township is the first-of- its-kind Cashless Township in the country which was launched by Hon. Chief Minister of Gujarat on 13th February 2017.
"THE NEWSMAN OF INDIA.COM" How do you rate the overall performance of GNFC, ever since you have assumed the office as its Managing Director?
Dr. R K Gupta:- The performance of GNFC is a case of turn around over last few years with constant operational efficiency and financial growth. Today GNFC has already crossed Market Cap of 1 billion US Dollar, and as compared to our peers, GNFC has been witnessing spectacular performance on key matrix of operations and finance i.e. production, revenues, profits, earning growth and EBITDA growth.


"THE NEWSMAN OF INDIA.COM" What challenges you had faced initially internally and outside and how did you manage those challenges in this journey of great success?
Dr. R K Gupta:- When I joined this Company, the financial position of the Company was under stress and operations were severely affected especially due to time and cost overrun in one of our major projects. The cost overrun was around INR.850 + crore and time overrun was 3.5 years. Apart from this, there were following challenges:-
(a) Government mandated feedstock conversion from Oil to Gas for Urea production
(b) TDI prices were substantially lower and the project's financial viability was under question
(c) Many high value contracts required tough negotiation to generate savings
(d) Lack of dynamisms in marketing the products in terms of timely pricing and penetration were key
issues
(e) There were number of litigations related to the Dahej project.
(f) Company piled up long term debt of INR.2200+ crore and Working Capital utilization of INR. 1650+
crore
(g) There were high inventory levels especially of Fertilizers
(h) IT Division was stagnating
Due to the above, the Company's profitability was eroding and in the first full year of taking charge, there was a loss of more than INR. 450 crore suffered by the Company. Those were challenging times those days. Tough, bold but pragmatic decision making was the need of the hour. As a team, we couldn't afford to let frustration creep in. Instead, we focused on tangible actions for improvement like:-
(a) Timely market response
(b) Increasing the domestic and export presence especially of TDI
(c) Negotiating key contract of input material/feedstock (Negotiation saving of INR 750 + crore)
(d) Efficient liaising with Government to facilitate production of Technical Grade Urea
(e) Efficient liaising with Government to sell the high stock of Urea
(f) Took measures for establishing quality parameters
(g) Took measures for de-bottlenecking operations issues
(h) Addressing manpower issues like reshuffle, taking expert help of GNFC's long timer
The company was gradually nurtured to financial health with year on year profit from FY 2015-16
onwards at on INR. 226 crore, to INR. 715 crore in FY 2016-17 and INR. 721 crore for 9 months ended
December, 2017.
With each passing year, various production and marketing records were set for highest ever production
and dispatches, which led to sale and ensured better realization through increased marketing efforts.
These coupled with recovery in Global Demand Supply based scenario in TDI helped the Company to sail
through the headwinds it's faced.
This year is the best ever financial year in the 42 year history of GNFC where in, Revenues, Profits, EBITDA and earnings growth have been spectacular, coupled with enhanced market share, high penetration in export territories and highest ever export recorded.


"THE NEWSMAN OF INDIA.COM" Would you like to elaborate as how you are different in terms of product enhancement, Marketing, and Business Development for your consumer base retention in comparison to your competitors in the market which include National level fertilizer companies and some Multinationals too?
Dr. R K Gupta:-
• GNFC is manufacturing Urea, Ammonium Nitro Phosphate Fertilizer and 20 Industrial Chemicals at Bharuch / Dahej Production site. GNFC is the only producer of TDI in India and South East Asia and the largest producer of Formic Acid, Aniline, Methanol, and Acetic Acid.
• GNFC's products conform to highest quality standards and many times better than specifications. Customers have preference for GNFC products due to quality and cost effectiveness. Having multiple plants for the products like, TDI, WNA, CNA, Methanol, etc. along with adequate storageensures timely supply to end user.
• Though 2017-18 was a challenging year for Chemical & Fertilizer business, in terms of moderate growth of chemical industries, inadequate monsoon, easy import from international markets, use of substitute products,etc, GNFC has been able to hold its ground on all fronts like production, marketing and profitability. All plants are running beyond 100% capacity and its on-stream factor is also very high. This makes all operations and products highly cost effective.
• To enhance marketing of Industrial Products and Fertilizer, special drive are also undertaken by
innovative marketing, addressing market segments and smart pricing. Keeping balance between
domestic supply and export quantity, as well as maintaining import parity price helped GNFC to retain end user in their fold.
• Quality service to the end user – whether related to technical issues in their plants or for our products,are addressed on priority. Business is transparent and communication to buyer is of highest order.Compliance to regulatory requirement of customers is addressed promptly like in case of AN Melt.
• Government of India's "Make in India Plan" which is aimed at safeguarding the interest of domestic producers and imposing anti-dumping duty on TDI and AN Melthas helped GNFC along with others, to improve domestic market share of the products.
• For fertilizer business, we have a strong brand image and farmers have preference for our products compared to other fertilizers. They call our Urea prills as "Moti Ka Dana".Phosphatic Fertilizers have special advantage due to its composition and easy availability from Narmada Khedut Sahay Kendras (NKSKs) owned and operated by GNFC and complete supply chain of Co-operatives/retailers.
• NKSKs have established a good working relationship with farmers and guide them for optimal use of fertilizers and crop related issues. This goes a long way in building relationships beyond the commercial interest.
• GNFC being techno savvy company have also adopted business through digital tools like, online e-auction, sale of fertilizer from their web portal and incentive for cashless mode of payment.


"THE NEWSMAN OF INDIA.COM" What have been your strategies for better realization in industrial products and complex fertilizers
segment?
Dr. R K Gupta:-
• We have adopted a multi- fold strategy to succeed in our preferred area. Our first motto has been that every rupee saved is rupee earned. We have been consciously and substantially focusing on reducing our input costs and increasing our marketing realization.
• It's our sincere effort to keep the Production levels at maximum possible while abiding by all the safety precautions, thereby reducing overall cost of production. As of now, all our plants are working over their of 100% capacities.
• We have also considered ways to utilize industrial waste and gain revenue out of it. Our R&D effortshave focused on producing value added chemicals from the industrial waste. Another area where we have been able add value to our process is byidentifying and implementing schemes for reduction of energy consumption of per ton of product.
• Another area through which we have been able to drive efficiency is by closely monitoring the import price of industrial chemicals and accordingly respond quickly with a smart domestic and export price fast and smart price response to our domestic and export price.
• GNFC is exporting chemicals like TDI, Acetic Acid, Methyl Format, Ethyl Acetate etcto nearly 66
countries. Such an export led growth has helped us to tap into the international markets and gives us price range of current international business. In the current financial year, we have been able to deliver exports to the tune of INR. 460 crore.
• Fertilizer business is farmer oriented and our productshave been successful in building a positive brand image. In addition, other agricultural inputs like, pesticides, soil and water testing facility etc. are available through our 69 retail depot NKSKs and therefore we are able to offer a more holistic solutions to our farmers. Similarlyneem Cake availability improves the foot fall to our retail outlets.
• Placement of fertilizer into various retail supply chains, proper training and guidance to farmers, ready to help approach of all NKSKs representatives helped company for improved sales. Fertilizer business is seasonal and hence certain promotional schemes are also launched from time to time.
"THE NEWSMAN OF INDIA.COM" GNFC participates in large number of welfare activities and social causes. It seems your business is more than manufacturing and producing because you touch the lives of people anywhere in many ways. How is this feeling? If can share with our readers?
Dr. R K Gupta:- My personal belief has been that, business should be able to contribute positively to the society in addition to profit maximization. Integrating sustainability in the core business holds the key for tomorrow's new India. We, at GNFC, believe in progressing with responsibility. To that effect, we have a dedicated wing for CSR by the name Narmadanagar Rural Development Society (NARDES).We are directly and indirectly contributing to various initiatives for e.g. we undertook a massive Toilet building project in Bharuch and nearby districts under 'Swachh Bharat Mission', whereby 3000 toilets were constructed at approx. cost of INR 6 crores. We led from the front in undertaking relief measures during the recent floods in Gujarat. A full-fledged 24X7 Drinking Water Project has been established by us which acts as Gangotri for Bharuch District.
GNFC's revolutionary Neem project is also a social responsibility. It has not only touched lives of people
who were previously not connected with our business, but also provided direction as well as support to
start earning and making their family happier, which has been endorsed through various case studies by
UNDP, Harvard University, IIMs etc.
GNFC has received more than 15 awards by renowned national as well as international organizations and institutions for its active and consistent participation in CSR activities. Just to quote, GNFC has been
awarded the prestigious Porter Prize in 2017 for enabling social progress through its Neem Project. As an organization we believe that such activities which result in social transformation and are for a better
cause, shouldn't be considered in isolation from our core business practice but should be seenco-existing with it.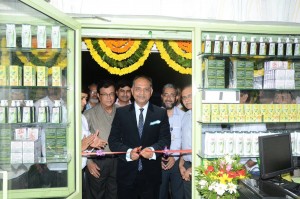 "THE NEWSMAN OF INDIA.COM" What pro-employees & officers initiatives have you taken to form a result oriented team?
Dr. R K Gupta:- GNFC Parivar……. The term defines it all. When you treat your employees not as employees but your own family members, the work there is half done. Working in a family, for the betterment and prosperity of family itself keeps you motivated and charged up. In today's rapidly changing world, having a result oriented team itself is an essential requirement of any business module, and appropriate recognition and rewards for the team helps in keeping them motivated in the long run. In recognition to outstanding efforts by employees, company has paid highest ever Diwali bonus to employees.
We have two national festivals (i.e. 26 th Jan and 15 th Aug) celebrated with all the employees, officers & family members. During the festival,not only does the management share its vision and plans but also
reward and recognize the employees. We also have suggestion schemes for recognition and rewards for
our team members for the Technical innovations, de-bottlenecking and cost saving measures. The
selection is done through a committee of senior executives.
Further, all employees & officers are well connected through social media, through which they share remarkable events, awards etc. on real time basis. Company's Narmadanagar Township at Bharuch is worth a visit. Almost all the facilities are available inside, ranging from school, hospital, market zone, sport facilities and many more.The conducive environment which it provides to our employees, indirectly enhances their capacities to work efficiently and effectively.
"THE NEWSMAN OF INDIA.COM" Your views on GNFC &"Neem Revolution"t?
Dr. R K Gupta:-
• In order to fulfill Hon. Prime Minister's vision of 100% Neem coating of Urea, GNFC undertook a unique and innovative multi-dimensional socio-economic backward integration."Neem Project" for collection of Neem Seeds at grass-root level and has been manufacturing oil from the same instead of buying oil directly from the market for coating urea. This idea of Hon. Prime Minister has helped save INR.6, 000 crore annually by lowering requirement of subsidized Urea. It was a great honour for GNFC to have had various plants of Neem Complex inaugurated by Hon. Prime Minister.
• This unique initiative has led to an additional income generation of INR.45 crore to more than 4.5 lakh rural women, covering 53 districts across India, during the last three years. The remuneration for Neem seeds collection improved from INR. 2 per Kg to nearly to INR.16/- per kg. It has led to empowerment of women through enhanced decision making, improved status in the family, reduced domestic violence etc.
• GNFC have procured so far 45,000 MT of Neem Fruits in the last three years from various districts of Gujarat, Karnataka, MP, Rajasthan and Maharashtra etc. GNFC is planning to collect more than 40,000 MTs Neem Fruits in the upcoming season.
• GNFC utilizes about 600 MT Neem Oil produced in house for coating Urea, whereas the rest is given to other Fertilizer units like KRIBHCO, IFFCO, MFCL, Kanpur Fertilizers, etc. Surplus neem oil is being used to make various Neem based products as part of the forward integration of the Neem project.
• As a forward integration to the Neem Project, GNFC has undertaken the manufacturing of Neem based products like Neem Soap, Neem Oil, Neem Hand Wash, Neem Shampoo, Neem Mosquito repellent etc. Neem products are manufactured by local Self Help Group women under the supervision of GNFC team in our Neem Complex located at Bharuch, further enhancing the cause of women empowerment. Having a smile on face is good but making others to smile is better and GNFC has become the cause for the same.
• As a First of its kind in the country, GNFC has produced Neem soaps with 21% pure Neem oil.
• With every passing day, we are expanding the marketing and sales network of our Neem based
products in the form of direct marketing through our own exclusive Neem stores or by leveraging the existing hypermarket/supermarket stores network such as Big Bazaar, Star bazaar etc. GNFC has also tied up with Gujarat State Civil Supplies Corporation (GSCSC) for supply of Neem Products through more than 17000 Fair Price Shop (FPSs) outlets in the state.The products are also available on various e-commerce websites like Amazon, Flipkart, Snapdeal etc.
• However, I would like to add here that this is not the core business of GNFC but the company has given serious thought and intends to take this business to the level of INR.500 crore in the next three years by expanding volume of current products as well as introducing new variants in the market.
• In short, I would like to say that GNFC's Neem Project has revived the lost glory of Neem and have totally refurbished its image in India since its inception. The 'Need Revolution' in the making.


"THE NEWSMAN OF INDIA.COM" Can you please share with us some of your expansion plans?
Dr. R K Gupta:- We have undertaken a lot of geographical expansion in recent times by expanding our domestic and export markets. In the domestic market, one of our approaches has been to add more products to our basket,while enhancing their production strategy. Our retail reach with respect to Neem based products has also increased substantially. Initially our retail business with 1,000 shops, and today, our products are available across 24,000 retail outlets. There is a plan to increase this number to 25,000 shops by the end of FY18.
Apart from the big push for our neem-based products, GNFC will soon take a call on expansion of
production of Acetic acid and maybe MDI (meta toluene di-amine), a downstream product of TDI, of
whichwe are the only producers in the country today. We are also setting up a 2 lakh tonnes DCP
(dicalcium phosphate) plant with foreign direct investment from Europe's largest DCP producer, EcoPhos S.A. of Belgium. This product will be greatly useful to cattle feed, poultry feed and fish feed industry, and also for export to other countries.