PSE World Celebrates 'Azadi Ka Amrit Mahotsav'
Aug 9th, 2022 6:26 pm | By
ThenewsmanofIndia.com
| Category:
SPECIAL NEWS COVERAGE
(THE NEWSMAN OF INDIA.COM)
On 15th August 2022 India celebrates 76th Independence Day' Azadi Ka Amrit Mahotsav is an initiative of the Government of India to celebrate and commemorate the completion of 75 years of independence and the glorious history of it's people, culture and achievements.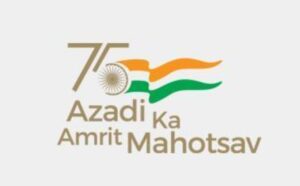 🇮🇳"आज़ादी का अमृत महोत्सव PSE Celebrated "🇮🇳
🇮🇳 Jawahar Lal Nehru Port Authority, India's best-performing Port celebrated India's 76th Independence Day with enthusiasm and Azadi Ka The celebration started with flag hoisting by Sanjay Sethi, IAS, Chairman, JNPA in the presence of Unmesh Sharad Wagh, IRS, Dy. Chairman, JNPA, CISF officials and HODs, followed by the singing of the National Anthem.
🇮🇳 OIL celebrates 76th Independence Day. Dr. Ranjit Rath, CMD, unfurled the Tiranga during the National Anthem, in presence of Directors & OIL employees. In his address, Dr Rath emphasised on the responsibility that comes with independence & freedom. Dr. Rath highlighted the need for renewed commitment of each OIL Indian & acknowledged the contribution of OIL Energy Warriors in securing India's energy needs towards fulfilling Hydrocarbon Vision 2030 of Govt of India.
🇮🇳 76वें स्वतंत्रता दिवस के शुभ अवसर पर श्री ए.के सिंह, सीएमडी, एनएचपीसी ने निगम मुख्यालय, फरीदाबाद में ध्वजारोहण किया।एनएचपीसी द्वारा 'हर घर तिरंगा'अभियान पूरे देशभक्ति व देश प्रेम के जज्बे के साथ मनाया जा रहा है।
🇮🇳 NMDC Limited marked Independence Day 2022 by hoisting the flag at the Head Office and all project sites. As India celebrates Azadi KaAmrit Mahotsav and Har Ghar Tiranga, NMDC looks forward to embracing the _Amrit Kaal_ and urges everyone to participate in the nation's imminent growth.
🇮🇳 स्वतंत्रता दिवस के अवसर, सीएमडी एसईसीएल डॉ प्रेम सागर मिश्रा व एसईसीएल परिवार की प्रथम महिला तथा श्रद्धा महिला मण्डल की अध्यक्षा श्रीमती पूनम मिश्रा द्वारा आज बिलासपुर के नेहरू शताब्दी नगर स्थित बंगला क्रमांक -१ पर ध्वजारोहण किया गया ।
🇮🇳 Team EIL's celebration of India's 75 glorious years of Independence was led by C&MD EIL, Ms.Vartika Shukla, along with the Functional Directors & CVO.
🇮🇳 NRDC celebrated 75th Anniversary of India's Independence with Environment friendly initiative of Cycling, Yoga, Games & launch of Special edition Invention Intelligence. Took pledge to support Hon'ble PM NarendraModi initiative of Atma Nirbhar Bharat.
🇮🇳 Under Azadi Ka Amrit Mahotsav C&MD SP Mohanty'ji hoisted the Indian National at Gandhi Maidan, Namrup, followed by Guard of Honour on the occasion of 76th India's Independence Day 2022.
🇮🇳 GSL celebrated 76th Independence Day with patriotic fervor. B K Upadhyay, CMD, GSL hoisted the national flag and addressed GSL personnel. GSL wishes everyone a very Happy Independence Day.
🇮🇳 Independence Day 2022 was celebrated by Paradip Port Trust with demonstrations of joy and festivity. Chief Guest on the occasion, P.L. Haranadh, Chairman hoisted National Flag. COVID appropriate behaviour was followed along with restrictions in the number of attendees.
🇮🇳 T.K. Ramachandran, IAS, Chairman, released the Compendium on Birth, Development and Growth of Tuticorin Port, authored by S. Veeramuthumoni, Ex. Adviser, V.O.C. Port. Bimal Kumar Jha, Deputy Chairman received the first copy.
🇮🇳 75th Years of India Independence Day celebration & Flag hoisting at IWAI Pandu Multimodal Port at Guwahati Office on. Children's also participated in Independence Day celebration at IWAI Pandu Multimodal Port, Guwahati.A Selvakumar Director A&V IWA, wished the gathering on Independence day.
🇮🇳 DVC joined in the Independence Day 2022 celebration with full gusto as the entire nation was abuzz in a festive spree on the occasion of Azadi Ka Amrit Mahotsav. Colourful events had been arranged in each of the field formations where employees, school children, local people, all participated enthusiastically in rallies and other programs proudly flaunting the Tricolour as the 'Har Ghar Tiranga' campaign caught the country's imagination in an unprecedented way. The Day was marked at DVC HQ at Kolkata with the hoisting of the National Flag by the Chairman, R.N.Singh and a soulful rendition of the National Anthem when all those present lent their voices creating an emotionally charged atmosphere.