BSE signs Memorandum of Understanding with Korea Exchange (KRX)
Apr 29th, 2016 7:10 am | By
ThenewsmanofIndia.com
| Category:
LATEST NEWS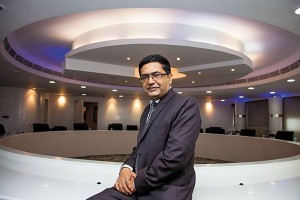 Mumbai, Thursday, April 28 2016: BSE Asia first stock exchange and now world's fastest exchange with the speed of 6 microseconds today has entered into Memorandum of Understanding with the Korea Exchange (KRX) in Seoul to extend their cooperation by listing S&P BSE Sensex based derivatives contracts. The agreement will further the development of derivatives markets in India and South Korea. It will encourage the sharing of information, and foster new opportunities for the exchanges and their respective issuers.
On the occasion, Mr. Ashishkumar Chauhan, MD&CEO, BSE, said, "The MoU between BSE and KRX represents a significant step in integrating two of the fastest growing economies of the world, India and South Korea. We are very pleased to sign this memorandum of understanding with one of the world's largest stock exchange by market capitalization. We are sure that this integration will go a long way in building both our expertise- financially and technologically."
Kyungsoo Choi, Chairman and CEO of Korea Exchange, said, "India is growing to be one of the largest markets in the world thanks to stable Indian economic growth. KRX is very pleased to list a futures product based on S&P BSE Sensex index, which is the representative index of Indian equities market. I expect that the listing will facilitate better price discovery and create arbitrage opportunities because the two markets have overlapping time zones."
The MoU also includes information sharing by both parties to promote each other's understanding of the products listing process and the markets functioning. BSE & KRX will also support eachother for investor relations activities of cross-listed products and assist with cross-border supervision & enforcement.
The two have also agreed to conduct joint research in the area of derivatives markets and to support the development of new products, experience sharing and cooperation on IT system.