Central Civil Services Cultural and Sports Board is organizing Women's Cricket Tournament
Mar 2nd, 2021 8:09 pm | By
ThenewsmanofIndia.com
| Category:
LATEST NEWS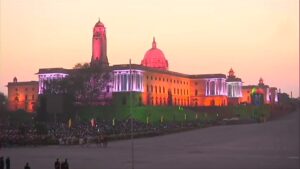 (THE NEWSMAN OF INDIA.COM)
Central Civil Services Cultural and Sports Board is organizing Women's Cricket Tournament 2020-2 1 from 18th to 19th March 2021 onwards at Vinay Marg Sports Complex, Chankyapuri, New Delhi. The Ministry (Department desirous to participate in the tournament may send their entries. Last date for submission of entries in the Central Civil Services Cultural & Sports Board office Room No. 361, 'B' Wing, Lok Nayak Bhavan, Khan Market, New Delhi — 110003 is 16th March, 2021. The Welfare Officers are requested to give wide publicity of this event among women employees in their Ministry/Department. They may be allowed to avail Special Casual Leave on the date(s) of event. To encourage participation in cricket, Board has decided to waive off the entry fee this time. Board will appreciate participation of a full-fledged team from each Ministry/Depai linent. However, Women Cricket is being organized for the first time, it may be difficult to get nomination in large number. To promote maximum participation, Board has decided to accept even single entry from each Department. The cricket tournament shall be played with soft ball. The rules will also be relaxed for ease of participation. Further relaxed Rules and Regulations of Women Cricket Tournament will be uploaded later on the website of this Department. The Board shall provide practice facilities including equipments at Vinay Marg Sports Complex. For further details, the participants desirous to participate in the tournament may Contact Ms. Manju Maan, Convenor (Mobile No.7503964092). It may please be noted that there is no restriction on number of entries. The Ministry may include in their team persons working in the attached and subordinate offices located at Delhi/New Delhi. All teams/Individuals would be represented as a part of Ministry's Team only. Central government autonomous organization like UPSC, Election Commission, C&AG's Office, Lok Sabha Secretariat, Rajya Sabha Secretariat, Cabinet Secretariat, PMO etc. can send independent team. The entries are to be sent through the Welfare Offices of the Ministry concerned.
The following categories of employees are not eligible for participation in this competition:-
(a) Uniformed personnel in Defence Services /Para Military Organisations/ Central Police Organisationn !Police/RPF /CISF/BSF/ITBP/NSG etc.
(b) Employees of Autonomous bodies /Undertakings/Public Sector Banks! Corporations even though administratively controlled by the Central Ministries.
(c) Casual/Daily wages workers.
(d) Employees attached to offices on temporary duty.
The general instructions as per SOP /Guidelines of COVID-19 issued by Central/State Govt., are to be strictly followed by all players and supporting staff during the competition are at Annexure-Il. If it is found that the general instructions are not followed by any player/official in the tournament he/she shall be liable to
be debarred from the tournament.A Screening Check List for COVID-19 (Annexure III) is mandatory to fill up daily at venue during the entire period of tournament.