Centre orders work from home for 50% staffers, staggered timings for others
Mar 19th, 2020 3:58 pm | By
ThenewsmanofIndia.com
| Category:
LATEST NEWS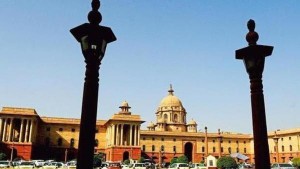 (THE NEWSMAN OF INDIA.COM)
The Centre on Thursday ordered all departments and state-run firms to get 50 percent of its middle and junior-rank officials to work from home and introduced staggered timings for others.
The instruction, designed to minimise pressure on public transport and reduce chances of the coronavirus infection spreading within the bureaucracy, will apply for all central government departments, state-run firms and other bodies funded by the Centre.
The work from home rule will kick in for Group B and C employees who make up for the overwhelming majority of the 48 lakh employees, an order issued by the Centre's human resource manager, the Department of Personnel and Training said.
Of these, 31.1 lakh, or 3.1 million, are directly employed by the central government; the rest are employees of state-funded firms or bodies.
"Heads of department, or HoDs, may ensure that 50 per cent of Group B and C employees are required to attend office every day, and the remaining 50 per cent staff should be instructed to work from home," the order by DoPT's Sujata Chaturvedi issued on Thursday said.
According to government data, there are 2.4 lakh Group B officers (60 percent of them are gazetted officers) and 27.7 lakh Group C staffers in the central government.
The order means that only 1.1 lakh Group A officers will have to attend office on a daily basis.
For those who would be coming to office, Wednesday's order also introduced staggered timings. "It is suggested that three groups of employees may be formed and asked to attend office," Chaturvedi's directive said.
The first batch of employees would start their day at 9 am, the second at 9.30 am and the third, at 10 am.
"Similar instructions may be issued to attached/subordinate offices, autonomous/statutory bodies. The Department of Financial Services and Department of Public Enterprises may issue similar instructions regarding financial institutions and public sector undertakings," the DoPT said.