Chairman CIL, Pramod Agrawal takes review meeting at SECL,
May 1st, 2022 10:24 pm | By
ThenewsmanofIndia.com
| Category:
LATEST NEWS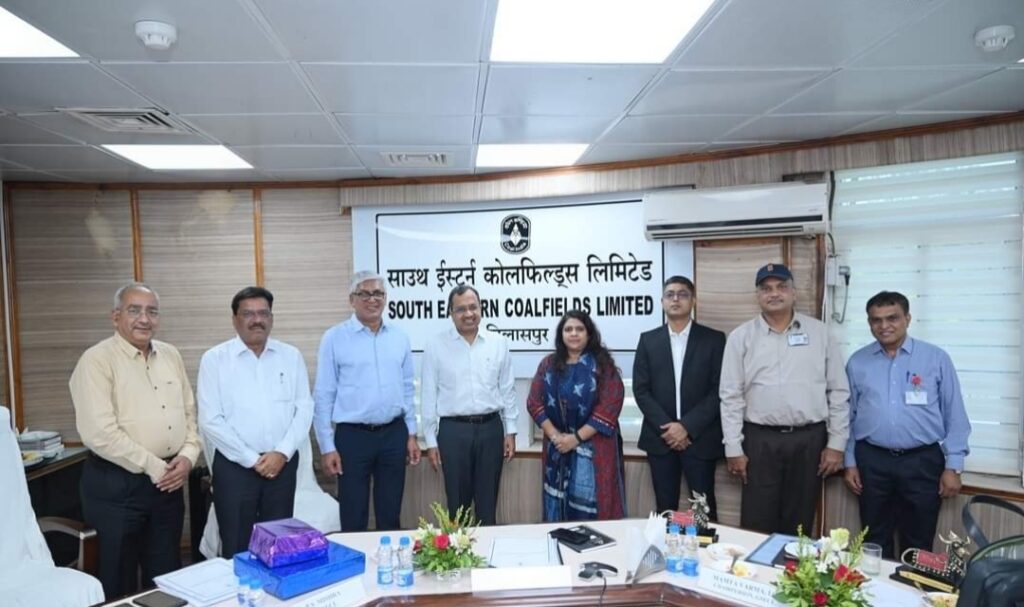 (THE NEWSMAN OF INDIA.COM)
Coal India Chairman, Pramod Agarwal (IAS) visited SECL Headquarters, Bilaspur Coal India Chairman took review meeting on various issues related to production and dispatch of the company. SECL CMD Dr. Prem Sagar Mishra, Director Technical (Planning/Project) S.K. Pal, and Heads of Departments were present during the meeting.
SECL is producing and dispatching about 4.50 lakh tonnes of coal per day in the recent past, which is higher in comparison to the previous years and for the month of April. More than 40 coal filled power rakes are also being dispatched by the company on daily basis. The company has coal stock of about 16 million tonnes available to the consumers.
During the review meeting, while discussing various topics related to dispatch, Chairman CoalIndia Limited said that we have to work towards improving our performance with better planning and quick decision power so that the fuel supply as per the country's requirements can be ensured. He also reviewed the progress of infrastructure development projects like first mile connectivity etc. Referring to SECL's mega projects Gevra, Deepka and Kusmunda, he said that there is a huge stock of coal here and we have to increase their contribution progressively. The team of Gujarat State Power Corporation Limited also visited SECL Headquarters for meeting with Chairman Coalindia and SECL Management.
In the said meeting, Mrs. Mamta Verma (IAS) Chairperson Gujarat State Power Corporation Limited (GSPCL), Ravi Shankar (IAS) Director (Admin), M. Prasanna Kumar MD GSPCL, P.M. Patil Chief Engineer (Fuel) along with SECL top management and officers of Marketing and Sales department were present.
The meeting mainly discussed about the supply of coal to the State Electricity Corporation. It may be noted that coal is supplied to the said power company from areas of the company's Korea-Reenwa like Bhatgaon, Chirmiri, Baikunthpur and Korba coalfields of Deepka, Gevra, Kusmunda etc.
The management under the chairmanship of Chairman Coal India assured all possible cooperation for uninterrupted supply of coal. Earlier, on arrival at SECL Headquarters, Chairman Coal India Limited and top officials of Gujarat State Power Corporation Limited were welcomed by CMD Dr. Prem Sagar Mishra on behalf of SECL family with shawl, quince, book and bouquet. Chairman Coalindia along with his Technical Secretary M.K. Singh ED (Coordination) Coal India Kolkata was also present.