Corporate legend Ashishkumar Chauhan gets second consecutive terms as CEO & MD (BSE) by BSE Board
Aug 27th, 2017 4:39 pm | By
ThenewsmanofIndia.com
| Category:
LATEST NEWS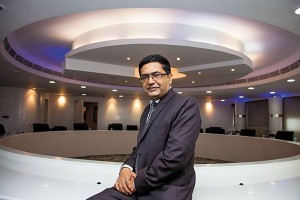 THE NEWSMAN OF INDIA.COM
Top stock exchange BSE's board has approved another five-year term for its chief Ashish Chauhan, who has steered a strong turnaround and a highly- successful initial public offering (IPO) of the bourse with strong business expansion.
Chauhan, who joined BSE as deputy chief executive officer (CEO) in 2009, was made MD and CEO for a period of five years with effect from November 2, 2012.
At a meeting held earlier this month, the board approved re-appointment of Ashishkumar Chauhan as BSE's Managing Director and CEO for a further period of five years from November 2, 2017, to November 1, 2022.
This would be subject to approval from the capital markets regulator Securities and Exchange Board of India (Sebi) and from the shareholders at the ensuing Annual General Meeting.
Chauhan also happens to be one of the founding team members of National Stock Exchange (NSE) where he worked from 1992 to 2000.
From 2000 to 2009, he worked as the President and Chief Information Officer of Reliance group and was also the CEO of the IPL cricket team Mumbai Indians in its formative years.
At BSE, he is credited with reviving Asia's oldest exchange and for making it the fastest exchange in the World with less than 6 microseconds response time.
Chauhan holds a B Tech in Mechanical Engineering from IIT Bombay and a PGDM from IIM Kolkata.
He is known for introduction of mobile trading, online real-time surveillance systems and for launching several new products across various market segments such as SMEs, currencies, mutual funds and corporate bonds.
Under his leadership, the BSE also set up the country's first international exchange, India International Exchange, which was inaugurated by Prime Minister Narendra Modi in January this year at Gandhinagar, GIFT City.
He has successfully completed the IPO of BSE which was pending for over 10 years. The IPO was oversubscribed 51 times with close to 12 lakh applications in January 2017.