CSR is a true manifestation of Bapu's Trusteeship Philosophy: President of India
Oct 29th, 2019 7:26 pm | By
ThenewsmanofIndia.com
| Category:
LATEST NEWS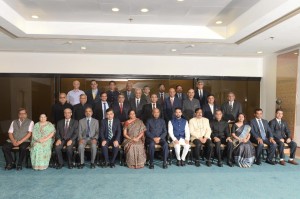 (THE NEWSMAN OF INDIA.COM)
CSR is a true manifestation of Bapu's Trusteeship Philosophy: President of India
The President of India, Ram Nath Kovind, presented first National Corporate Social Responsibility (CSR) Awards to selected companies here today. The President conferred national awards to winning companies in two categories namely, "Corporate Award for Excellence in CSR" and "Contribution of CSR in Challenging Circumstances".
In his address, President Shri Ram Nath Kovind observed that through National CSR Awards companies are being recognised for their contribution to society. Such contribution through CSR is a true manifestation of the trusteeship philosophy of Father of Nation, Mahatma Gandhi. He also noted that the award assume greater significance since these are being presented in the 150th birth anniversary of Mahatma Gandhi. He stated that CSR has now become an integral part of business philosophy such that companies also carry activities which directly benefit the poor and needy including women, people with special abilities, rural areas, slums, etc. The President congratulated the companies for building healthy and inclusive societies, sustainable markets, combating corruption and safeguarding the environment. The President also announced that going forward National CSR Awards will be given away on 2 October every year. He called upon the industry to strive to achieve the target of providing good quality personal care to all orphan children.
The ceremony was graced by the President of India,Ram Nath Kovind, Union Minister for Finance and Corporate Affairs, Smt. Nirmala Sitharaman, Minister of State for Finance and Corporate Affairs, Anurag Singh Thakur, Secretary, Ministry of Corporate Affairs, industry leaders,Injeti Srinivas, and DG&CEO, IICA, Dr Sameer Sharma. A large number of senior government functionaries, CSR professionals, were present during the National CSR Awards Ceremony held here today.
The National CSR Awards have been instituted by the Ministry of Corporate Affairs to recognize corporate initiatives in the area of Corporate Social Responsibility (CSR) to achieve inclusive growth and inclusive and sustainable development. The Indian Institute of Corporate Affairs (IICA), think-tank of the Ministry, has rendered technical and logistics support in the conduct of the rigorous award process.
Corporate Award for Excellence in CSR
CSR spend above INR 100 Crores
Power Grid Corporation of India Limited
Hindustan Petroleum Corporation Limited
Contribution to the National Priority Areas
Health, Safe Drinking Water and Sanitation
Mahanadi Coal Fields Limited.
Contribution to the National Priority Areas
Environment, Sustainable Development & Solar Energy, Power Finance Corporation Limited
Contribution to the National Priority Areas
Women & Child Development,
Indian Oil Corporation Limited
Contribution to the National Priority Areas
Promotion of Sports,
Central Coalfields Limited
Honourable Mentions in different award categories:
Corporate Award for Excellence in CSR
CSR spend above INR 100 Crores,
National Aluminum Co. Limited
CSR in Challenging Circumstances
East India, Hindustan Copper Limited,
Mecon Limited
CSR in Challenging Circumstances
South India,Mineral Exploration Corporation Limited
Contribution to the National Priority Areas
Women & Child Development, Rail Vikas Nigam Limited
Contribution to the National Priority Areas
Support to Differently abled,
Hindustan Petroleum Corporation Limited