Digvijaya Singh writes a letter to PM Modi on atrocities in BJP ruled state
Oct 5th, 2016 5:48 pm | By
ThenewsmanofIndia.com
| Category:
LATEST NEWS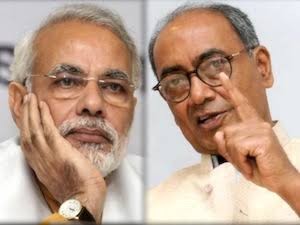 (Thenewsmanofindia.com)
Senior Congress leader Digvijaya Singh has written a letter to the Prime Minister Narendra Modi for bringing his attention towards atrocities that are taking place in BJP ruled states against minority communities.
Digvijaya Singh in his letter first congratulated PM on his comments in Kerala rally taking Muslim Community into consideration and its favour. Singh also conveyed his pleasure about PM's initiative of organising Muslim Panchayat in Haryana's Mewat region.
Digvijaya Singh reminded PM about his BJP's slogan "Sab Ka Sath Sab Ka Vikas"
Singh has raised the issue of BJP ruled states specailly in MP wherein right wing organusations like Bajrangdal, RSS,Vishwa Hindu Parishad etc are allegedly invloved in spreading terror by doing violent acts on Muslims.
Singh writes about recent incident of Baihar District Balaghat (MP) wherein an Additional Superintendent of Police (ASP), who among other policemen was charged with attempting to murder an RSS worker by MP Govt.
As per information two police officers attached to Baihar police station in Balaghat were suspended for allegedly beating up Yadav, who was arrested for posting objectionable comments on Islam.
Digvijaya Singh has urged the PM Modi to take cognizance of such incidences and put a stop on it to make the country as the most peaceful full of communal harmony.