EIL conferred with CIDC Vishwakarma Awards
Apr 19th, 2023 9:45 pm | By
ThenewsmanofIndia.com
| Category:
SPECIAL NEWS COVERAGE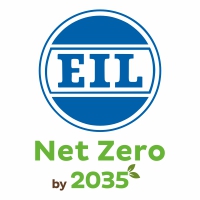 (THE NEWSMAN OF INDIA.COM)
New Delhi, April 19, 2023: Engineers India Limited (EIL) has been conferred with the
prestigious CIDC Vishwakarma Awards by Construction Industry Development Council (CIDC) in the categories of "Best l Construction Project" and "Construction Health, Safety & Environment". The Achievement Award for "Best Construction Project" was presented to "MAF Project, Assam Petrochemicals Limited, Namrup, Assam" while Achievement Award for "Construction Health, Safety & Environment" was presented to "Residual Utilities & Offsites (OBE) for Rajasthan Refinery Project of HRRL, Barmer". The awards were received by Janak Kishore, ED (Projects), K.Y. Malleshwarappa, GGM (Const.), Amit K Das, CGM (Const.) & R. K.Singh, CGM (Projects) at the 14th CIDC Vishwakarma Awards ceremony held in New Delhi during April 10-12, 2023. "MAF Project" of Assam Petrochemicals Limited, Namrup, Assam was inaugurated by Prime Minister of India on 14 th April 2023. EIL provided LEPCM Services for this project. "Rajasthan Refinery Project" of HRRL, Barmer is one of the largest Integrated Refinery cum Petrochemical complexes being set up in India, EIL is providing consultancy services for the project. "Committed to be a key stakeholder in building nation's energy infrastructure, EIL has leveraged its robust Construction management portfolio to maintain highest standards of Health, Safety and Environment in all our project deliverables, EIL is also collaborating with world class consultants for aligning best-in-class HSE practices. Awards of this ilk are testimony of the quality services provided by the company to its esteemed clientele".CMD EIL, Ms Vartika Shukla commented on this feat achieved by the organization.