EIL secures business worth INR 4700 Cr in FY 2021-22.
May 27th, 2023 3:41 pm | By
ThenewsmanofIndia.com
| Category:
LATEST NEWS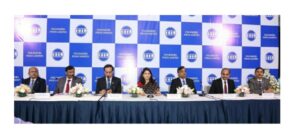 (THE NEWSMAN OF INDIA.COM)
New Delhi, May 27, 2023: Engineers India Ltd (EIL) organised its Annual Press Conference on May 26, 2023 in New Delhi wherein C&MD Ms.Vartika Shukla shared EIL's Annual Results for FY 2022-23 as well as Business Outlook and Orders Secured. Functional Directors and senior officials of the Company were also present on the occasion. Addressing the gathering, CMD said that during FY 2022-23, EIL had secured business worth around INR 4700 Cr as against the order value of around INR 1650 Cr in FY 2021-22. "The overall order book status of the company, however, as of 31st March 2023 stood at INR 9079 Cr including go ahead of around INR 1600 Cr," she added. Emphasizing on EIL's forte of mega project implementation in the oil & gas sector, Ms. Shukla stated that Vizag Refinery Modernisation Project (VRMP) of HPCL, HPCL Rajasthan Refinery project (HRRL), Capacity expansion project of IOCL-Panipat, Cauvery Basin Refinery (CBR) project for CPCL, with the combined capital outlay of around $20 billion are some of the recent testimonies of EIL's project execution capabilities in the domestic market. Speaking on EIL's international operations, CMD stated that EIL has been transforming and expanding its business operations to emerge as a global industrial powerhouse through its robust engineering and technology portfolio. "EIL has already showcased its unparalleled track record of mega project implementation in new geographies. The commissioning of Dangote Oil Refinery Project (DORC) in Nigeria with highest single train refining capacity in the world exemplifies EIL's contribution in fulfilling our Prime Minister's vision of 'Local to Global'," she added. CMD further shared that EIL has received work order worth INR 209 Cr in this financial year only from the overseas that constitute more than 30% of its order value in FY 2023-24. CMD also briefed the media on the projects undertaken in the area of Energy Transition, Corporate Social Responsibility initiatives etc.