India's Prid PSE "A Flashback of 2017"
Dec 10th, 2017 3:26 pm | By
ThenewsmanofIndia.com
| Category:
LATEST NEWS
THE NEWSMAN OF INDIA.COM
(Exclusive by thenewsmanofindia.com desk) India's Pride PSE "A Flashback of 2017"
Public Sector Enterprises have been instrumental in empowering Indian economy and remined as the main pillars for India's consistant growth for over seven decades.
National Aluminium Company Limited (NALCO) is a Navratna CPSE under Ministry of Mines in the year of 2017 witnessed grand success and phenomenal growth under the headship of Tapan Kumar Chand, It's Chairman and Managing Director, NALCO is one of the largest integrated Bauxite-Alumina-Aluminium- Power Complex in the Country.  NALCO's export earnings accounted for about 46% of the sales turnover in the year 2016-17 and the Company was rated 2nd highest net export earning CPSE in the last year as per Public Enterprise Survey report.
With a vision to shoulder the development and progress in India's global ranking NALCO aggressively following a New All-Weather Business Model, has extensive plans for brown field and green field expansion projects, which include the ongoing 5th Stream Refinery Project of 1 MTPA capacity in existing Alumina Refinery at Damanjodi (Brownfield), development of Pottangi bauxite mines, Utkal D&E coal mines in Odisha, establishment of 6 lakh TPA greenfield and 5 lakh TPA brownfield Smelters in Odisha. The power for the proposed smelter expansions are envisaged to be supplied from the 2400 MW coal based power project in JV with NTPC.

As a responsible corporate entity the Company has given thrust to renewable energy sector by commissioning 198 MW wind power plants andis in process of finalising 70 MW solar and 50 MW wind power projects. For backward integration, the Company is going ahead for a 2.7 lakh TPA caustic soda plant in JV with Gujarat Alkalies& Chemicals Limited (GACL) in Gujarat. As part of forward integration, NALCO has formed JV Company named 'Angul Aluminium Park Private Ltd' (AAPPL) with Odisha Industrial Infrastructure Development Corporation (IDCO) to give a boost to ancillary, upstream & downstream products related to aluminium industry. Land acquisition for this is already completed and pricing mechanism of hot metal has been finalized.
Taking the initiative in CSR NALCO is actively involved in playing a significant role in the socio-economic development of the areas where it operates. Rehabilitation of displaced families, employment, income generation, health care and sanitation of local people, education skill development, providing safe drinking water, development of infrastructure, pollution control, environmental measures, rural development, promotion of arts, crafts & culture and various humanitarian goodwill missions have earned NALCO a place of pride in the corporate world. 



Company earmarks 2% of its average net Profit made during the three immediately preceding financial years for CSR activities in compliance with provisions of the Company's Act. Since inception, NALCO has spent about Rs. 297 crore towards CSR activities till FY 2016-17. NALCO has set up a standalone Foundation in 2010 for taking up its CSR activities in more empathetic manner to fulfill the basic needs of the people of the periphery villages of its plants.
NALCO has been the flag bearer of Prime Minister Narendra Modi's dream project "SWACHHA BHARAT ABHIYAN" NALCO has constructed 473 toilets (133% of target) in Odisha & Andhra Pradesh before time. The endeavor of NALCO was duly appreciated by MHRD. Joining hands with Hon'ble Prime Minister's call of Beti Bachao & Beti Padhao Abhiyan NALCO has adopted 181 poor & meritorious girls under Nalco Ki Ladli scheme. Under Prime Minister's Swachh Bharat Mission and Iconic Shrine Development Programme 13 projects have been taken up for Shri Jagannath Temple, Puri & its surrounding to upgrade the infrastructure & maintain cleanliness.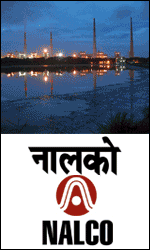 In the year 2017 NALCO continued it's tradition of execelling it's performance and it was conferred with many awards this year.
'Emerging Leader in Operational Excellence' Award for NALCO Smelter
NALCO Refinery bags Kalinga Safety Award
NALCO bags EEPC Award for Export Excellence
NALCO'S PANCHPATMALLI MINES AWARDED
NALCO receives the prestigious SCOPE Excellence Award
NALCO bags Performance Excellence Award
NALCO's Mines gets 5-Star Rating
NALCO bags CAPEXIL's Highest Export Award
It is expected that NALCO will add more and more feathers in it's crown in the coming new year 2018. NALCO's progress and achivements will make India more proud.