IREL & BARC SIGNS TRIPARTITE AGREEMENT WITH ASHVINI RARE EARTHS Pvt. LTD.
Aug 26th, 2021 5:46 pm | By
ThenewsmanofIndia.com
| Category:
LATEST NEWS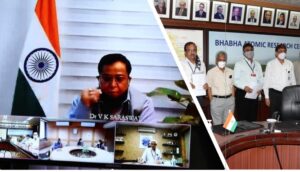 (THE NEWSMAN OF INDIA.COM)
In order to facilitate the indigenous Nd-Fe-B permanent magnet production – a critical product required for clean & green energy and electric vehicles which would reduce the country's carbon footprint, IREL and BARC have collaborated for developing technology for production of Nd-Pr metal from Nd-Pr oxide being produced by IREL. Through an elaborate selection process, consortium of M/s Ashvini Rare Earth Pvt. Ltd. (AREPL) and M/s Ashvini Magnets Pvt. Ltd. has been chosen for transfer of technology under incubation mode.
A tripartite agreement has been signed between IREL, BARC and AREPL on 14th July 2021 for development and production of Nd-Pr using Indian Rare Earth resources under incubation mode. The Agreement was signed in the presence of Dr. V K Saraswat, Member NITI Aayog, K N Vyas, Chairman, AEC and Secretary, DAE, Dr. A K Mohanty, Director, BARC and D Singh, CMD, IREL. Under the Agreement, IREL shall supply the required quantity of Nd-Pr oxide to consortium of AREPL & AMPL and BARC shall transfer the technology under incubation mode for production of Nd-Pr from the Nd-Pr oxide supplied by IREL. BARC will do handholding of AREPL led consortium for upscaling of the technology to commercial scale. Though India produces Nd-Pr oxide required for production of Nd-Fe-B permanent magnets, and the production facility for making magnets and the end-use market of wind mills, EVs, etc., the intermediate supply chain of production of metal and alloy is absent. While consortium of AREPL has wherewithal to produce Nd-Fe-B magnets from the alloy and is in the process of developing the technology for producing alloy from Rare Earth metal, this Agreement will bridge the gap of conversion of oxides to metal and help India attain self-sufficiency in production of critical Rare Earth Permanent Magnets.