IS AKHILESH BACK IN THE RECKONING IN UP ?
Dec 2nd, 2016 4:25 pm | By
ThenewsmanofIndia.com
| Category:
LATEST NEWS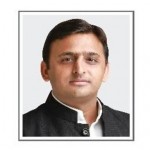 THE NEWSMAN OF INDIA.COM
(By Bhagyashri Pandey)
After the cooling down of the bitter feud in the Samajwadi Party (SP) the Yadav scion Akhilesh is emerging a front runner in the assembly polls in UP as of today. The rural and semi urban areas are not talking about Mayawati instead they are now talking about Akhilesh and for that matter not about Samajwadi Party either say observers. Whenever Mayawati has won elections in the past there was enough street talk about her and the people would be convinced but this time there are apprehensions about her especially amongst the much wooed Muslim votebank . Many still believe that BSP leader could tie up with BJP after the polls as she had done in the past, some even fear that there is a secret understanding between her and the BJP, all kinds of apprehensions are been spoken about the Dalit leader who at one time ruled the hearts and minds of the community. Political observers say that one thing that goes in Akhilesh's favour is his clean image this despite the fact that there is enough taint in his party but his personal track record is that of clean honest politician who wants to bring welfare to the people of UP. There is also an understanding between Akhilesh and Priyanka Gandhi about SP getting a support from the Congress in case of an hung assembly. The clean secular image also goes in favor ofor Akhilesh even though Mayawati is trying hard to woo minorities.
On the other hand the BJP because it has not declared a CM candidate is sending out uncertain and mixed signals especially among the minority community. Besides, demonitisation as the party claims has had a positive impact on the rural people, but with delayed sowing and selling of pulses and rice at rock bottom prices the point a remains how long will the positive effect last and is really the rural India at the cost of its own living vote for the BJP. In addition to this the issue that has rankled the minority community is the kind of messages that are circulating against their community on whats app groups and otherwise. This has hurt the sentiments of many in the minority community who feel that the finger is being pointed at them for being a part of fake currency racket. On the ground reality of Amit Shah's Parivartan rally is that there is not even a crowd of more than 5000 people attending it despite all the muscle that the party wields. This is not been after demonitisation but even before it. It is heard that the elections could be held only after March 15 as the last day of preparing the electoral rolls is December 20.