Is Shivraj Charisma fading in Madhya Pradesh?
Jan 21st, 2018 3:17 pm | By
ThenewsmanofIndia.com
| Category:
SPECIAL NEWS COVERAGE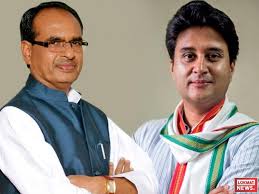 (THE NEWSMAN OF INDIA.COM)
In Madhya Pradesh Congress continueing its pace of gaining anginst BJP, after consecutive three terms of rein Shivraj Singh Chauhan's BJP Govt. has now started loosing the feel of being upperhand on the voter end. In the past 17 years the polls results for congress were use to be either like no show or a small show but in last two years the figurs and scenerio seems have changed and congree has come to a paralel status in electoral fights in MP. Recent results of civic polls are eye opening enough of MP's political scenerio which made a tie like situation nine each for ruling BPJ and party in opposition Congress.
This defeat calls for a big concern for BJP as most senior Congress leaders kept themselves away from campaigning for the elections, while CM Shivraj had conducted several rallies and roadshows
The Congress party put up a spirited fight in the Madhya Pradesh civil polls by winning nine president posts in 19 civic bodies, tying the BJP, which too, won nine top posts. 
CM Shivraj Singh Chouhan's charisma could not help the BJP take over the Congress citadel of Raghogarh, the hometown of AICC general secretary Digvijaya Singh. The Congress fielded the veteran politician's son, Jaivardhan Singh.
Congress' Mahesh Bhawar was elected as the Nagar Palika president of Sardarpur in Dhar, the spot where the CM was recently caught on video slapping his bodyguard during a rally. The footage had brought sizeable criticism on to the chief minister.
Of the 19 civic bodies that went to polls in Madhya Pradesh, the Congress and BJP won nine seats a piece, while one civic body went to an independent candidate. At Sendhwa, the BJP candidate won unanimously.
Out of the six Nagarpalikas, Congress won four while the BJP could only manage wins at two. However, BJP salvaged some pride by winning seven nagarpalika parishads while Congress won five. One nagarpalika went to an independent candidate.
Exhibiting strong anti-incumbency sentiments, voters successfully used their right to dethrone the BJP at two places in Rajgarh and Dewas, only BJP civic body head Sangita Yadav managed to retain her post in Bhind.
Resentment among BJP workers was also evident as BJP dissident Navartani Shukla won as independent from Jaitahari nagarpalika parishad in Anuppur.
In the absence of AICC general secretary Digvijay Singh, his son, Jaivardhan led the party and helped Congress candidate Aarti Sharma win the civic body polls with 20 wards, while the BJP could only win in four.
The Congress also seemed to have regained its foothold in the tribal belt by winning Manawar, Dhar and Barwani nagarpalika election despite the presence of senior Shivraj ministers including Ranjana Singh Baghel and Antar Singh Arya.
As consolation, BJP managed to wrest back Congress seats at Kukshi, Dahi, Pithampur, Rajpur and Omkareshwar.
Interestingly, BJP candidate Dinesh Sharma managed victory in Dhamnaud in Dhar, where he was offered garlands of shoes during poll campaign. The incident had been dubbed as strong anti-incumbency sentiments.
BJP state president Nandkumar Singh Chauhan, though, claimed that the BJP had won at many places, while adding that the party would review reasons behind its losses. He accepted the party at places failed to understand sentiments of the workers and erred in ticket distribution.
Meanwhile, Congress spokesperson KK Mishra said, "The fake image of being MP's brand ambassador created by CM Shivraj with the help of hollow promises and lies has been shattered by these results."
"This augurs well for the party ahead of the upcoming assembly polls," he added.