It's like repeat of "India Shining" failure for BJP and Digvijaya to register a historic victory says "Kamal Nath"
Mar 30th, 2019 4:17 pm | By
ThenewsmanofIndia.com
| Category:
LATEST NEWS

(THE NEWSMAN OF INDIA)
Senior Congress leader and Chief Minister of Madhya Pradesh state Kamalnath has challenged BJP on questioning farmer loan waive scheme, He said the data can be cross check at any level, whether the farmers facilitated or not, on a TV talk show Kamalnath reaffirmed his statement "We fulfilled what we promised"
Chief Minister of Madhya Pradesh, Kamalnath said that his government has facilitated 22 lakhs farmer in the state with loan waiving ,in response of a question Kamalnath said there nothing called free found, today the farming fraternity need support and the agriculture sector is facing numerous challenges due to bumper harvest , His government's conviction is to standby with the farmers for their reform, Kamalnath came down heavily on Narendra Modi government, he accused PM Modi for deceiving the people on India with false promise, he said the voter of the country is going teach a lesson to BJP in this lok sabha elections,
Kamalnath termed BJP's allegation on congress as a propaganda, he referred calls like standup India, digital India, skill India as a part of false propaganda of Modi government, he said non of it worked in favour of unemployed youths, Kamalnath further said its all seems like Shining India campaign which resulted NDA top leadership to sit at home and reasoned a great raise of UPA in 2004 under the leadership of our leader Mrs. Sonia Gandhi, he said UPA governed the country for a decade with historic achievements.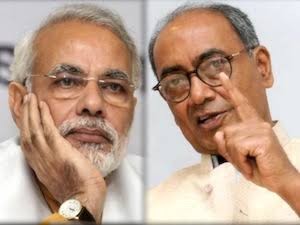 Kamalnath said the voters of Madhya Pradesh are simple and sober but not fools, voters has already voted Shivraj Singh out of power and now it's the time for Modi's ouster, on question of Digvijaya Singh candidature from Bhopal, Kamalnath said Digvijaya Singh is going to register a historic victory in Bhopal, he said candidature of Digvijaya Singh is message for every congressman of MP to take challenge and defeat BJP.
Kamalnath in reply of a question of Modi Govt.'s achievement in space security, said, if NDA would have done enough on ground then they would not have any necessity to work on space. Kamalnath questioned PM Narendra Modi, that whether he has played any role in the establishment of the security setup of the country like, Army, Air Force, Navy, NDA and Army Training schools etc, Kamalnath people know what was there pre Modi Govt and post Modi Govt. India has been an empowered nation since the independence.