"JEWELS OF SHIVRAJ" The MP CM's brigade
Oct 12th, 2015 2:18 pm | By
ThenewsmanofIndia.com
| Category:
LATEST NEWS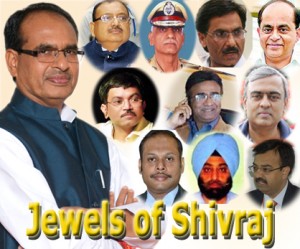 "JEWELS OF SHIVRAJ" The MP CM's brigade (THENEWSMANOFINDIA.COM EXCLUSIVE REPORT BY S. UMAR)
Shivraj Singh Chouhan is the 18th and current Chief Minister of Madhya Pradesh state. He replaced Babulal Gaur as chief minister on 29 November 2005. He has been a five-time Member of Parliament, representing Vidisha in the Lok Sabha since 1991. Over twelve years Chouhan has been instrumental in introducing schemes such as Ladli Laxmi Yojna, Kanyadhan Yojna and Janani Suraksha Yojna to focus on the prevention of female infanticide in the state.
First time Chouhan was chosen to become the Chief Minister of Madhya Pradesh on 30 November 2005 in 2008, Chouhan led the BJP to a second consecutive victory in the state and on 12 December 2008, he was sworn in for his second term. On 8th December 2013 He was also elected as Chief Minister of MP for third term. In the span of about twelve years there have been numerous achievements that are accredited to Shivraj Singh Chouhan, Chouhan has been successful for more than two decades maintaining cordial relationship between BPJ high command at one hand and bureaucrat of his state on second. During these many years Shivraj Singh Chouhan quite successfully formed a team of his most reliable and trusted bureaucrats in Madhya Pradesh. Thenewsmanofindia.com closely searched in the political and bureaucratic scenario of Madhya Pradesh to find out the jewels of Shivraj Singh Chouhan on whom Shivraj Sarkar has been so successfully climbing the ladder of reign. It was found that in MP almost all the IAS, IPS, IFS and other officers are jewels for the state but few names can be listed as most trusted officers of Shivraj brigade.
Thenewsmanofindia.com picked top ten names of these most reliable and trusted bureaucrats of CM Shivraj Singh Chouhan the list these officers is as follows:
JEWELS OF SHIVRAJ
1.
The list of jewel figures first name as Chief Secretary of Madhya Pradesh, Anthony J.C. Desa, an IAS officer of 1980 batch MP cadre Desa is the most reliable and result oriented officer of CM. for Desa state comes first then anything else, CM's all planning and decisions take final shape in desa's command. He is credited with efficient management and reform of the public distribution system in the State. Desa also discharged responsibility as Joint Secretary in Union Commerce & Industries Ministry. He was posted at the United Nations Organisation for 5 years. Desa's qualification is P.G. History Political Science, Graduate History Political Science, P.G. Economics Environmental Science from Harvard University USA as a Mason Scholar. He has Won Littauer Award.

2.
MP DGP Surendra Singh, IPS officer of 1980 batch MP cadre, Singh is one of the favorite officer of CM. Surender Singh is solely responsible for maintaining the law and order in BJP ruled state of MP, even after intervening pressures from different groups active in the state politics Surender Singh stands firm to deliver his duties for his state, his dedication and deliverance of duties have been able to achieve full faith and trust of his Police Department in the eyes of state head Shivraj Singh Chuahan

3.
Iqbal Singh Bains, 1985 batch IAS officer of MP cadre is Principal Secretary to Chief Minister Shivraj Singh Chauhan. Bains is considered as quite trusted officer of CM who is dedicated for his duties 24×7. Bains always remain low profile in after being in highest echelons of power that makes him most trusted officer for CM Shivraj, Earlier Bains has served as Collector Khandwa, Guna, Bhopal, Secretary to Governor, MD Agro Industries Corp, Seed Corporation.

4.
SK Mishra, an IAS officer of 1991 batch MP cadre. Mishra is principal Secretary to CM,PR,NRI Department, State Agro Industries Development Corporation. SK Mishra is considered as close and most trusted office of Shivraj Singh Chouhan. People say Mishra is eyes and ears of Shivraj Singh Chauhan
The entire branding and marketing of MP BJP Govt. is handled by Mishra. SK Mishra never hesitates to bring ground reality to Shivraj taking any matter related to MP state. Therefore whether officers or common people they approach S.K. for redressal of their grievances.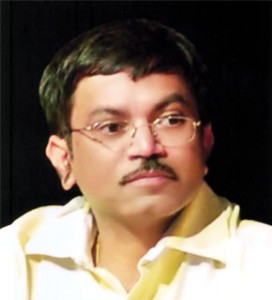 5.
Shivraj's all time favorite Manoj Shrivastava is 1987 batch IAS officer of MP cadre. He is
Principal Secretary Commercial Tax, Culture and Religious Trusts and Endowments in MP. Manoj Shrivastava has been instrument in the victory of BJP in 2008 and 2013 election as his work as PS IPR got full marks because BJP Govt's all the schemes for public facilitations and benefit was righty enforced, communicated and publicised by Dept. of Public Relation under the headship of Manoj Shrivastav. He is considered as man of principles and a firm administrator, Monoj Shrivasta these qualities are likes by CM Shivraj Singh Chauhan.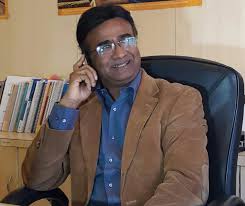 6.
Here comes an IAS officer of 1986 batch, MP cadre Pravir Krishn who is quite renowned for his passion and dedication for whatever assignment he is involved with. Shivraj trusted man Krishn adds a feather in MP Govt. crown. Presently Pravir Krishn is Principle Small Scale Industry and Horticulture dept. and earlier to this he has created history not only in MP but in India at large by setting extraordinary performance as PS Health of MP. Krishn successfully changed the behavior of health service providers and recipients as also the community at large. State brought down IMR, MMR & TFR to the desired levels. Pravir's strategy referred to 'Quantum Jump' Strategy. Remarkable progress had been achieved in last years in MP. The MMR has gone down from 310/100000 to 227, the IMR has gone down 88/1000 to 73 and the TFR has gone down from 3.1 to 2.9. this all makes Pravir Krishn performer.

7.
S.R. Mohanti, is Addl. Chief Secretary, School Education Department and he is an IAS officer of 1982 batch of Madhya Pradesh cadre. Mohanti is also called a man of deliverance and his this quality much liked by his boss Shivraj. Mohanty is also among most experienced bureaucrat of Shivraj regime. Mohanti a man of a post-graduate from India's premier management institute, along with an IAS degree and multiple trainings across various top institutes, S. R. Mohanty has worked his way up to his current position as ACS over almost two decades of dedicated work in various areas like Health & Family Welfare, Women & Child Development, Medical Education, and Industrial and Roads Development Corporations.

8.
Vivek Aggarwal, an IAS of 1994 MP cadre, He is presently Managing Director, MP Road Development Corporation and Secretary PWD at Government of Madhya Pradesh. Vivek Aggarwal is young bureaucrat of young CM of MP. Vivek Aggarwal is also a trusted man of Shivraj team who is always up and above to formulate all possible strategies for the development of MP State.


9.
Shivraj's trusted IPS officer of 1985 batch MP cadre Sarbjeet Singh is currently posted as ADG
ADG (Narcotics) & OSD to CM. Sarbjeet Singh is a straight forward officer, who compassionately executes every assignment directed to him. Sarbjeet has always been like a jewel for MP CM. Sarbjeet was instrumental in the grad success of recently organized World Hindi Conference by MP govt.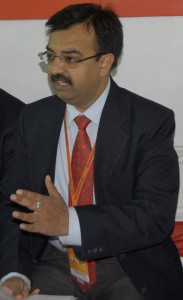 10.
Anupam Rajan an IAS officer of 1993 batch MP cadre has been recently appointed as Secretary Public Relation Govt. of MP. Shivraj Singh Chauhan is a man of PR and he know the importance of PR Department there CM has appointed young bureaucrat Anupam Rajan as Secretary Public Relations Dept Govt .of MP. Earlier Rajan, has held key positions as Additional Secretary Commerce, Industries and Employment and Managing Director, Madhya Pradesh State Industries Corporation, Textiles Corporation and Laghu Udyog Nigam etc. Rajan is a young and promising officer of Shivraj brigade
for your feedback on this story please write to us at newsmanofindia@gmail.com