Kamal Nath effects grip Madhya Pradesh
May 20th, 2018 12:04 am | By
ThenewsmanofIndia.com
| Category:
LATEST NEWS

(THE NEWSMAN OF INDIA.COM) 'by S. Umar' known for his undefeated,undebated and distinguished political functioning, Kamalnath effects are gripping momentum in Madhya Pradesh. In his new role as State President Kamalnath strategies seems working.Kamalnath is Congress one of the seasoned leader having sound experience in governence. Nath's international recognition as a political leader added to his caliber.In Madhaya Pradesh, BJP's one and a half dacade ruling has spread its roots in ground and still looks strong to take up the consecutive reign for the fourth term, only a strong competitor can be an option against BJap in the next elections in Madhya Pradesh.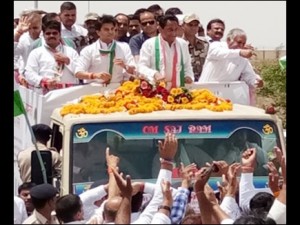 In the last 15 years including congress rule in centre till 2014 the popularity graph of Congress party has relentlessly gone down in MP. Several senior leaders had held the responsibility as the state congress president in such grim and acute circumstances in Madhya Pradesh in last 15 years whether, namely late Subhash Yadev, Suresh Pachouri, Kantilal Bhuria, Arun Yadev all devoted their best to escalate the graph of Congress popularity in MP, failed to convert their efforts into the vote for their congress party. Its high time for congress to perform in the next coming assembly elections later this year. BJP strongh hold in MP and centre as well where PM Modi's magic has not faded as expected after demonitisation or sudden GST implementation,the present scenario
In Madhya Pradesh atfer the arrival of Kamalnath,its probably very first time getting the entire congress family togather to combat the ruling BJP is the most instrumental act of Kamalnath.As expected Kamalnath's presence not only brings a zeal and hope in Congress caravan right from a ground worker to top level leadership in the state, stalwarts and big faces of erstwhile Congress like Digvijaya Singh,Suresh Pachouri, Ajay Singh, Manak Agarwal, Mukesh Nayak, Ajay Singh, Arun Yadev and Kantilal Bhuria all are looking aggressively and combinedly in reconstruction of state congress strenght in the state, All the leaders of congress under the command of kamalnath attacking the BJP and Shivraj govt on each and every failures of the govt not only on the ground but also on social media like twitter, facebook and enstagram. Even BJP too looks alert and concerned enough on Kamalnath's strategy in MP. Kamalnath's abilities are crystal clear throughout his political career. Now it is to be seen how Kamalnath engulf the power of BJP's Kamal in MP. Nath's success in MP will play a vital role in the national elections 2019
which are going to decide the congress fate further in indian political scenario.