Kamal Nath's efforts result in increase in supply of urea in MP
Dec 21st, 2018 9:24 pm | By
ThenewsmanofIndia.com
| Category:
SPECIAL NEWS COVERAGE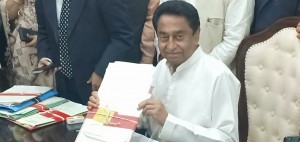 (THE NEWSMAN OF INDIA)
Bhopal : Friday, December 21, 2018, Madhya Pradesh Chief Minister Kamal Nath's efforts have resulted in increase in supply of urea and other fertilizersin Rabi seasonfor farmers of the state. The Agriculture Development and Farmers Welfare Department is in constant touch with the Union Ministry of Railways along with Ministry of Fertilisers.It may be mentioned that keeping in view the need of the farmers, the Chief Minister, Kamal Nath had reviewed the status at a meeting held with senior officers at Mantralaya on Thursday. State will get 12 rakes of urea shortly.
According to the Principal Secretary, Agriculture Development and Farmers' Welfare Dr.Rajesh Rajora, NFL and Chambal Fertlisers will supply urea to Madhya Pradesh speedily from their plants.The Guna plant of National Fertilisers Ltd. is planning to supply urea speedily to Madhya Pradesh only.
At present, 2600 metric tonne urea is about to reach rake point of Gwalior. This rake point will supply urea to the farmers of Gwalior, Datia and Morena district. Three thousand 194 metric tonne,2700 metric tonne, 3139 metric tonne urea of IFFCO is in transit for Shajapur,Mandideep and Harpalpur respectively. Urea will be supplied to the farmers of Chhatarpur district from here. Moreover, 3000 metric tonne, 3194 metric tonne, 3017 metric tonne and 2600 metric tonne urea of National Fertlisers Co. is about to reach Mandideep, Khandwa, Guna and Satna rake points respectively within 2 days.Khandwa has received 1951 metric tonne urea today itself. Directives have been issued to the Collectors in connection to its distribution. Three thousand 194 metric tonne urea of IFFCO will reach Mandideep rake point by December 24, which will be distributed among the farmers of Raisen, Bhopal and Sehore district.