"Making Father's Teaching as Objective of his life"
Oct 1st, 2016 5:51 pm | By
ThenewsmanofIndia.com
| Category:
SPECIAL NEWS COVERAGE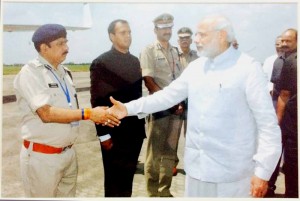 Thenewsmanofindia.com Exclusive Article
"Making Father's Teaching as Objective of his life". Dr. Raman Singh Sikarwar, an IPS Officer of 2002 batch MP cadre present DIG Bhopal (Urban)
Sikarwar's working style makes him different from others. He is accredited as honest, upright and firm officer who follows the path of transparency, impartiality and equality as his priorities while serving. Being in police service for a long period of about 29 years Sikarwar's impact is still full of hue, he is apprised by officer his bosses, senior bureaucrats, media persons, social activist, spiritual leader and masses at large.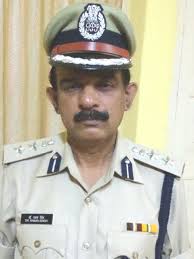 Dr. Raman Singh Sikarwar has done Ph.D. in Mathematic from Gwalior (M.P) which is his native place. Sikarwar is highly influenced by his father Late Prem Singh Skarwar who taught him to walk on the path of honesty and serve to people in whatever profession he opts in his career. Late Prem Singh Skarwar was the Founder Editor of Chambal Wani a local Newspaper of Gwalior. It goes without saying that honesty brings honesty in life, Dr. Raman Singh his career never forgot his father's teaching and inspirations so he strictly adhered to it as a sole objective of life. Sikarwar's working style has caused unease at times it has also happened on some occasion when Sikarwar's functioning unliked by some people who directly or indirectly attempted to influence him for irrational favours.
However teaching Mathematics subject in a university was first love of Sikarwar but in destiny brought him in to Administrative Service, in his three consecutive attempts (Accounts services, DSP and SDM) he picked Police Service as a career. Sikarwar's affection and knowledge with spirituality is well known to all. Talking in length with Sikarwar gives a feel like interacting with some spiritual Guru that makes his acquaintances more fervent about his personality.
During his services he has been instrumental in successfully maintaining law and order with peace and harmony even at most sensitive area of his postings. In his earlier posting as SP Sikarwar has been credited for his initiative in setting up of Police Rural Arbitration and Settlement rural police station in Seewni and Sehore districts. in rural areas most of the cases registered of pity nature, such cases should be handled with utmost care, in situation of ignorance of such small matter of amenity in rural areas may turn into sensational cases. Keeping these facts into mind Sikarwar took this initiative to set rural settlements centers wherein all such pity issues are settled down taking both the disputed parties into confidence. The results of the settlement centre were quite positive which helped to control the crime graph of rural areas.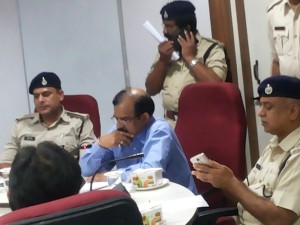 After taking over as Bhopal DIG Sikarwar took a noble initiative to reform poor children of slum by taking the task of educating them. Sikarwar with his teamn other opened two Bal Paramarsh Kender in two Police Station Campuses in Bhopal. As slums are believed as hub of crimes. Bhopal police has taken this gracious initiative if opening of Bal Paramarsh Kender. Bhopal police has taken sole responsibility to finance this Bal Paramarsh Kender from their own pocket to educate poor children. Such officers are found rare in our system who value their parent's guidence and teaching even after reaching to heights of their professional service. It's a responsibilty of our society to applaud and appreciate such personalities for boosting their moral and keeping them go for building a healthy and prosperous society wherein social justice prevails.