MP's DGP Rishi Shukla address concluding session self-defence training programme for the teachers
Sep 24th, 2016 7:52 am | By
ThenewsmanofIndia.com
| Category:
SPECIAL NEWS COVERAGE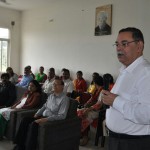 A forthnight self-defence training programme for teachers of colleges concluded at the police gymnasium on Thursday. Director General of Police (DGP) Rishi Shukla was the chief guest on the occasion.
On the occasion, Shukla said that along with mental strength, people also need physical strength. This training would not only be helpful in self-defense, but also enhance confidence among the teachers. He asked the participants to pass on the training they have received here, to their students, so that they could also be strong physically.
Shukla further said that soon advance courses in similar activities would commence. Shukla announced to give cash reward of ` 5,000 reward to both the coaches Mushtaq Khan and Ahmed Mushtaq.
The training programme was organised by the Crime Against Women branch of the police headquarters (PHQ). Additional DG Aruna Mohan Rao, head of the branch said that this training programme is being run in different schools and colleges of the State for past three and a half years. This training of trainers is quite helpful in teaching self-defence techniques to the students.
Representatives of different educational institutes and Traffic police took part. Rao informed that the training being imparted to the trainers for past three and a half years has helped the students by enhancing confidence among them.