NALCO's Q4 net profit registers 25.23% growth over Q4 of previous fiscal
Jun 3rd, 2017 2:38 pm | By
ThenewsmanofIndia.com
| Category:
LATEST NEWS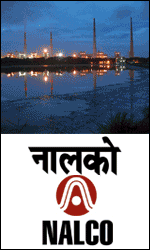 THE NEWSMAN OF INDIA.COM
(Bhubaneswar)
NALCO's Q4 net profit registers 25.23% growth over Q4 of previous fiscal
Weathering sluggishness in the metal market across the globe, fluctuating prices in the LME and increase in input costs of raw materials, National Aluminium Company Limited (NALCO), a Navratna PSU under Ministry of Mines, Government of India, has been riding on its overall growth in production, improving productivity & sales performance to register a profit in the 2016-17 fiscal.
According to the audited financial results for 2016-17, taken on record by the Board of Directors in a meeting held here on 27th May 2017, during the 4 th quarter NALCO has registered a growth of 25.23% with a net profit of Rs. 268 crore as against Rs 214 crore during the corresponding quarter of the previous fiscal. The figure also represents an 86% jump over the net profit of Rs.144 crore reported in the preceding quarter. Overall, during 2016-17, the company has posted a net profit of Rs. 669 crore, compared to Rs. 787 crore achieved during the previous year. The gross turnover of the company during 2016-17 has been Rs. 7933 crore.
It will be worth mentioning that the Navratna PSU reported significant growth in the last fiscal in the areas of production and sales. The company achieved 7.65 % growth in bauxite production by recording 100% capacity utilization of 6.825 million tonnes in FY16-17, the highest since inception. The company recorded stellar performance in its refinery segment with a record production of 2.1 million tonne Alumina Hydrate, which represented a jump of 7.53%. At its smelter plant in Angul, the company registered a 4.03% increase in production of metal at 3.87 lakh tonnes. Its captive power plant also witnessed an increase in power generation at 6066 MU, representing an increase of 3.85% YoY. On the sales front too the company has reasons to cheer with 6.15% growth in chemical sales, 6.32% increase in metal export and 2.52% increase in the domestic sale of metal. NALCO has been consistent in its growth of production parameters for the last two years and this has been main propeller for continuous profitability despite market sluggishness.