Pawan Hans and Airbus Helicopters Collaborates for maintenance partnership
Feb 17th, 2017 6:19 am | By
ThenewsmanofIndia.com
| Category:
LATEST NEWS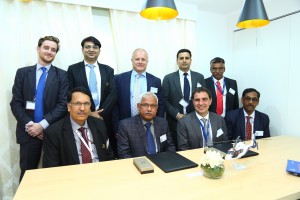 THE NEWSMAN OF INDIA.COM
Bengaluru, 15 February 2017 –Pawan Hans and Airbus Helicopters collaborates for maintenance partnership Look to expand scope of their collaboration. Airbus Helicopters has signed a Memorandum of Understanding with Pawan Hans Limited (PHL) appointing the Indian helicopter operator as Airbus Helicopters' approved maintenance centre for the Dauphin and Ecureuil rotorcraft. The MoU has the provision to enlarge Pawan Hans' scope of maintenance services in the future to include other Airbus helicopter types.
"We are proud to be the world's largest civil operator of Dauphin fleet and to be its leading maintenance services provider in India. Over the years we have enjoyed a great partnership with Airbus Helicopters," said Dr. B P Sharma, Chairman & MD, Pawan Hans Limited. "We would like to take our partnership a notch higher by extending our maintenance services portfolio to more Airbus helicopter types and increase our geographical coverage to SAARC countries." Pawan Hans, the world's largest operator of the civil Dauphin fleet, has 34 Airbus helicopters of which 32 are Dauphin and 2 are Ecureuil. Pawan Hans' maintenance base for the Dauphin is located in Mumbai.
"Pawan Hans is one of our most valuable customers for over 30 years and in this time it has accumulated over 500,000 flying hours on the Dauphin fleet. It has built unparalleled expertise in operation and maintenance of the Dauphin. Our legacy partnership offers opportunities to equip Pawan Hans with newer Airbus helicopter Pawan Hans models," said Philippe Monteux, Senior Vice President of South East Asia Pacific Zone.