Pellet to Power to Prosperity -Samarth Misssion
Mar 20th, 2023 11:13 am | By
ThenewsmanofIndia.com
| Category:
SPECIAL NEWS COVERAGE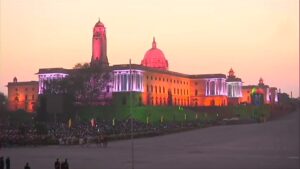 (THE NEWSMAN OF INDIA.COM)
New Delhi, March 20 , 2023: National Mission on use of Biomass in Coal Based Thermal Power Plant (SAMARTH) has been created by the Ministry of Power(MoP) as a one-shot solution to multiple problems being faced in disposal of surplus biomass. While conversion of Biomass into pellets and co-firing them in Thermal Power Plants would save the environment from harmful effects of stubble burning, it will also contribute to the reduction of country's dependence on coal in electricity generation, contributing to the National Clean Air Programme (NCAP) and earning potential for farmers and small entrepreneurs.
The "3P National Conference" "Pellet to Power to Prosperity" will be hosted by National Mission on Use of Biomass in Thermal Power Plants (SAMARTH) on 24.03.2023 in New Delhi in association with NPTI.
The objective of the conference is to foster an enabling environment to boost co-firing of biomass pellets in Thermal Power Plants in India as well as to provide a common platform for all the stakeholders in the field to share their knowledge and experience. The conference will have participation from Government, Ministries, Regulatory bodies, Financial Institutions, Pellet manufacturers, Entrepreneurs, OEMs, Farmer organizations etc,.