PM inaugurates P Mantri Kisan Samruddhi Kendra
Oct 17th, 2022 9:14 pm | By
ThenewsmanofIndia.com
| Category:
LATEST NEWS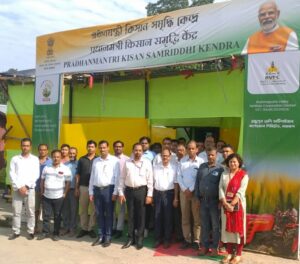 (THE NEWSMAN OF INDIA.COM) Prime Minister Narendra Modi today (October 17, 2022) inaugurated 600 Pradhan Mantri Kisan Samruddhi Kendra (PMKSK) under the Ministry of Chemicals & Fertilizers. The event was organized as per the two-day event "PM Kisan Samman Sammelan 2022" to be organized during October 17-18, 2022 at Indian Agricultural Research Institute, New Delhi.
On the occasion, led by Chairman & Managing Director,S.P.Mohanty, Brahmaputra Valley Fertilizer Corporation Limited officials attended the event through virtual mode. The live streaming of the event was organized at Kisan Suvidha Kendra located in the daily bazar of Namrup. The marketing department of BVFCL also invited the local farmers of neighboring areas during the event. Subash Chandra Das, Director (Finance), Y. K. Goel, General Manager (Marketing) and a host of other officials were also present during the event.
CMD, Mohanty took the opportunity to interact with the local farmers and highlighted the importance of usefulness of bio-fertlizers. He also explained the objective and vision of the program to the farmers. Local farmers were also distributed various fertilizers and agri products such as urea, MOP, DAP, NPKs, bio fertilizers, vermicompost, pesticides within MRP. The Corporation also readying to provide technical cum crop literature to local farmers alongwith a helpdesk. Mohanty also informed that 18 Pradanmantri Kisan Samrudhi Kendra are now operational in various districts of Assam such as, Nalbari, Biswanath, Dibrugarh, Udalguri etc.
The PM's event brought together physically and virtually more than one crore farmers, several agri startups from across the country. The Sammelan also witnessed participation of researchers, policy makers, and other stakeholders.
During the event, the Prime Minister had launched Bhartiya Jan Urvarak Pariyojana – One Nation One Fertlizer. Under the scheme, companies from now onwards shall market fertilizers under the single brand name "Bharat".