RailTel celebrates International Women's Day 2022
Mar 8th, 2022 6:13 pm | By
ThenewsmanofIndia.com
| Category:
LATEST NEWS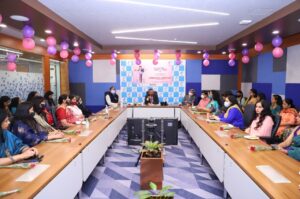 (THE NEWSMAN OF INDIA.COM)
RailTel Corporation of India Ltd. (RCIL), a Mini-Ratna Central Government Public Sector Undertaking (CPSU) under Ministry of Railways today celebrated International Women's Day at its Corporate Office of New Delhi and at its Regional & Territory offices spread across the country.
In New Delhi,Puneet Chawla, CMD, RailTel delivered a special address at the celebration ceremony while Dr. Neetu Jain, Associate Professor (Organization & Behavioral Science Area), Chair Incharge, Dr Ambedkar Chair in Social Justice, Indian Institute of Public Administration (IIPA) was Chief Guest who gave a talk on gender sensitization. A.K. Singh, Director/Finance & Sanjai Kumar, Director/Network Planning Marketing of RailTel were among those who spoke on the occasion. Ms. Ruchira Chatterjee, General Manager/Administration RailTel conducted the programme. Ms. Haritima Jaipuriar, GM/IT/Project RailTel proposed the vote of thanks.
The theme for this year's International Women's Day is "gender equality today for a sustainable tomorrow", #BreakTheBias.
On this occasion, Women's special Newsletter 'Aparajita' celebrating the women achievers of RailTel was released. The achievers among the women employees of RailTel were also given Women's Day award.
In his address, Puneet Chawla said, "I wish all my female colleagues very happy International Women's Day. This day is a global day celebrating achievements of women in different fields like social, economic, cultural and political. The day marks a call to action for accelerating gender parity, celebrating women's achievements, raising awareness about women's equality.
Women are the backbone of the family and the bedrock of a nation. They bring life into the world. Our mothers, sisters and daughters share a core value of caring for others.RailTel provides its employees an inclusive workplace where working and growth opportunity is equal for all. We have women employees at almost all levels starting from Executive officers to Executive Directors. RailTel's Northern Region, Chennai Territory, Administration and Security and ITP vertical at Corporate Office are now headed by woman executives at Executive Director and General Manager levels.
RailTel also believes in promoting women achievers and hence a number of established women were called as guests in various programmes to inspire one and all. Dr. Mukta Retd. Director Haryana Education Dept. & Dr. Subramaniam Bharti Awardee and Arjuna Awardee Wrestler Ms. Divya Kakran were invited to address and motivate us for the progression of Rajbhasha and Sports.
RailTel has also taken initiative to induct more female employees to the workforce. In the past 5 years the number women employees (regular, deputation, outsourced) in RailTel has grown by 83% (from 2017 to 2021). The male female ratio has also improved to 1:9 in 2021 from 1:14 in 2017.
The recent Women centric initiatives taken by the company are organizing Session on "Cervical Cancer, Pre and Post Menopause Conditions" by Dr Asha of Artemis Hospital and session on tax filling and basics of mutual fund investment only for women employees.
We have to consistently and constantly work for Gender Equality & BreakTheBias. This can only be achieved through continuous education/ discussions, seminars of the role and rights of women and also sensitising the male counterparts to appreciate and respect women for their contribution in shaping the society and building the nation. We have to take pledge to eradicate bias against our women colleagues. I am thankful to Dr. Neetu Jain for her talk on gender sensitization."
In her address, Dr. Neetu Jain said, "Gender Sensitization is need of the hour. Under Gender Sensitization, there is need for changing the stereo type mind-set of both men and women-a mind-set that strongly believes that men and women are unequal entities and hence have to function in different socio economic space. Gender sensitization enhances the sensitivity of people at large towards women and their problems.
Gender bias is a hindrance in the path of achieving gender equality. We all need to be more aware of biases and help to break bias in our lives through tasks and activities. It is necessary to understand at different levels, from policy making to grass root level, that any form of gender bias is an obstacle on the way of attaining an equitable social and economic order and therefore consider addressing gender related issues in correct perspective as a matter of priority. It is undoubtedly clear that women possess better managerial qualities and can achieve everything if given equal opportunities.I am glad to know about RailTel's efforts in making an inclusive workplace for growth for all."
Dr. Neetu Jain conducted an interactive session on gender equality at workplace.