Revolutionay JSE GNFC Neem Project wins the CII-ITC Sustainability CSR Award
Dec 13th, 2017 7:00 am | By
ThenewsmanofIndia.com
| Category:
LATEST NEWS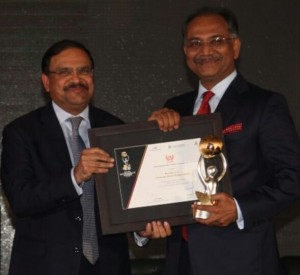 THE NEWSMAN OF INDIA.COM
India's most innovative and leading PSE of Gujarat Govt. Gujarat Narmada Fertilizers and Chemicals keeping the pace of it's revolutionary achivements has added another feather in it's crown by winning the CII-ITC Excellence in CSR Sustainability Award for Neem Project.
CII-ITC Sustainability Award for Excellence in CSR recognizes GNFC's innovative CSR strategy that has positively impacted both business and society by taking a strategic approach to CSR through collaborative programmes with government and civil society.
Gujarat Narmada Valley Fertilisers & Chemicals Ltd (GNFC) won the prestigious CII-ITC Sustainability Awards 2017 in the domain of Corporate Social Responsibility. The award recognizes the company's contribution in uplifting of rural women and girls by developing and implementing transparent, sustainable and pragmatic innovative Neem Project. CII Confederation of Indian Industries) and ITC (India Tobacco Company) jointly give this award to companies that demonstrate sustainability in performance, either in their field or in a domain. They concentrate on methodology, technology, governance, process, and carbon neutrality. Uniquely based on European Foundation for Quality Management (EFQM) Excellence Framework, these Awards cover around 250 questions focusing on Governance, Ecology, Business Ethics, Employee Development, Human Rights, Biodiversity, and social dimensions of doing business. Above all, CII-ITC Sustainability Awards recognise and reward excellence in businesses that are seeking ways to be more sustainable and inclusive in their activities. GNFC's flagship livelihood generation project, The Neem Project, has been active in 53 districts across 5000 villages in six states of India. During the last three years, by collecting over 45,000MT of Neem seeds, more than INR 50 crore income has been generated for around 4.5 lakh rural women and landless labourers.
The award assessed the company's sustainability performance based on the Business Excellence Model. Jury of assessors was headed by Ambassador Shyam Saran, India's former Foreign Secretary. The assessors scored parameters such as the quantified impact, cost-benefit balance, rigorous monitoring and evaluation procedures in place and scope for upscaling the CSR practices. This year, GNFC won from among 105 applicants, with a score of 85.57/100. GNFC was selected as the winner for its outstanding practices displayed towards facilitating a better quality of life for weaker sections of society through livelihood generation and women empowerment.
The CII-ITC Sustainability Awards of 2017 were given away in a gala ceremony at Sovereign Hall, Hotel Le Méridien, New Delhi on Tuesday, 12 December 2017. Many dignitaries such as C K Mishra, Secretary at the Environment, Forests and Climate Change Ministry and Ambassador Shyam Saran IFS were present, along with Sanjay Puri, CEO, ITC and Ms. Seema Arora, Deputy Director General, CII. Dr. Rajiv Kumar Gupta IAS, Managing Director, GNFC, received the award.