S.K. Pal, Director (Technical) SECL, Awarded with Best Director in Geominetech Excellence Awards 2020-21.
Oct 24th, 2021 9:08 pm | By
ThenewsmanofIndia.com
| Category:
LATEST NEWS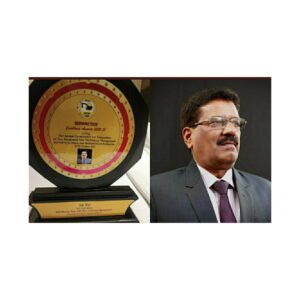 (THE NEWSMAN OF INDIA.COM)
Santosa Kumar Pal, Director (Technical) South Eastern Coalfields Limited (SECL) has been awarded with Best Director (Technical) Award in the 21st Annual Geominetech intl symposium on new equipment technology management and safety in mines and mineral based industries in a program held on 23-24 October 2021.
Santosa Kumar Pal joined as Director (Technical) Projects & Planning in South Eastern Coalfields Limited on 15.12.2020. S.K.Pal holds Bachelor of Science (Mining Engineering) degree from REC, Rourkela and obtained Master in Business Administration from Sikkim Manipal University. He joined Coal India Limited in 1985 and posted in Mahanadi Coalfields Limited and he obtained First Class Mine Manager Certificate from DGMS in 1988. S.K.Pal has rich and varied experience of working in the coal mines of MCL and SECL in various capacities as Project Officer, Sub Area Manager (SAM) and General Manager. In SECL, he served as SAM Pinoura, GM (Mining) Kusmunda, Area GM, Korba & Gevra Areas. At Corporate level, he functioned as HOD of Contract Management Cell in SECL. As a Technocrat, Pal contributed in commissioning of greenfield projects namely Kanchan OC of Johilla Area and Saraipali OC of Korba Area apart from running the largest coal mine in Asia, i.e. Gevra OC project. Also introduced Hydraulic stowing with bottom ash at Surakachhar 3&4 UG mine on trial basis, which paved way for future UG coal extraction below surface structure. Shri Pal is credited with redesigning the Manuals of e-procurement/e-tendering after incorporating necessary structural changes which facilitated introduction of e-tenders for service contracts at SECL and finalization of MOU between CIL and DGR, MoD, for sponsorship of ESM coal transport companies which contributed to enhancement of the coal production capacity of the company. He has international exposure which includes Training in advanced management development program at Germany and China in the year 2016. He also attended international conference on Project Implementation at Helsinki, Finland in 2009.