SAIL poised to take the big leap with its cutting edge technology
Sep 21st, 2016 9:53 am | By
ThenewsmanofIndia.com
| Category:
LATEST NEWS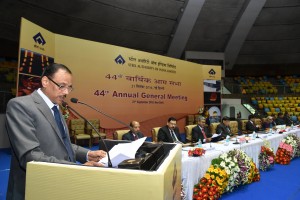 New Delhi, 21 September, 2016: Addressing the 44th Annual General Meeting held here today, Chairman SAIL, PK Singh said that, "This year, in 2016-17 SAIL has targeted to increase its production and sales by 20% over last year. Ramp-up of production from our new units is not only increasing production quantum and leading to better quality of products, but has also helped us in reducing cost of production. Higher production from the new units and rationalizing production from cost intensive routes has resulted in reduction in variable cost of production by 10% in Q4 compared to Q1 of 2015-16 and the same trend continues." Singh also pointed that besides the ongoing Modernization and Expansion program, which is on the verge of completion, SAIL has taken up new projects to improve its product mix and profitability. He added that, "The installation of a new 3.0 Mtpa capacity, 2250 mm wide Hot Strip Mill at Rourkela Steel Plant which is scheduled to be commissioned in 2018 will enable SAIL to produce very high quality hot rolled coils including advanced high strength grades to cater to the growing automotive industry in the country."
Under the current challenging conditions faced by steel industry, besides cost reduction, SAIL management has been undertaking conscious steps to improve customer centric processes to improve company's sales and performance. Speaking about the company's marketing initiatives he said, "At present more emphasis is being given on marketing in regions where we have natural freight advantage, increasing retail sales and leveraging the brand image of SAIL."He also added that management is trying to reach every employee for sensitizing and informing them about these new initiatives and strategies and inculcate a customer oriented culture.
Reviewing the trends of global steel industry, Singh said, "During the year 2015-16, India was the only major steel consuming market in the world which exhibited a growth. The year also witnessed India going ahead of the United States of America to become world's 3rd largest steel producing nation." According to the WSA forecast India would witness a more than 5% demand in both 2016 and 2017. Singh added that as per the projected demand-supply situation, global oversupply would persist in the near future and there is a need for protracted trade measures to provide the Indian steel industry with a level playing field. Thanking Government of India for stepping in with trade protective measure at the right time, Singh said, "Government of India by stepping in at this critical juncture and undertaking necessary corrective trade measures in the form of Minimum Import Price (MIP) mechanism introduced in February'16 followed by the imposition of provisional Anti-Dumping Duty for hot and cold rolled flat products have helped ease out a lot of pressure from for domestic the steel industry which otherwise would have been reeling under a lot more pressure."
Talking about domestic steel demand, Singh said, "In conjunction with the initiatives by Government of India for increasing steel demand, it is our responsibility as the leading steel producer in the country to increase steel consumption. Initiatives like increasing steel intensity in construction and infrastructure projects by propagating the advantages of steel over other materials with respect to Life Cycle Analysis based costing, assured quality, safety and pace of construction would be helpful in this regard." Holding a positive future outlook, he said that the greater emphasis on increasing growth rate of manufacturing sector, infrastructure development, higher rates of urbanization and rising middle class population promises a vibrant domestic steel industry in the country and SAIL is armed with cutting edge technology in its modernized plants for a big leap.