Secretary, Petroleum visits Baghjan, Blowout site of Oil India Limited,
Jun 24th, 2020 7:07 pm | By
ThenewsmanofIndia.com
| Category:
LATEST NEWS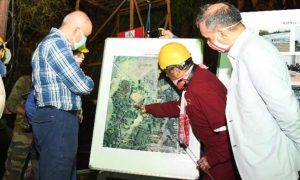 (THE NEWSMAN OF INDIA)
24 June 2020: Tarun Kapoor, IAS, Secretary, Petroleum & Natural Gas, Govt. of India, visited Baghjan#05 blowout site on 23-06-2020 along with CMD OIL and Functional Directors of OIL to take stock of the work progress at site. Later, Kapoor also visited the Relief Camp at Baghjan. He reviewed the progress and expressed his satisfaction on the execution of the plan. He had a detailed discussion with the District Administration yesterday and briefed them on the next course of action after reviewing all the details provided by administration. Today morning,Kapoor sat with the experts from M/s Alert Disaster Control, VP Mahawar, Ex-Director (Onshore), ONGC and teams from OIL and ONGC to understand the plan of capping the well.
Environmental Impact Assessment is as follows:
 Environmental Impact Assessment by M/s ERM is continuing at site.
 TERI Study on Air quality & Noise level is continuing at site.
 TERI study on Bioremediation of Sludge: M/s. TERI has reported that the mass production of biomaterial is started and one truck load of microbes will be dispatched from their facility and expected to reach site by 5th July, 2020.
 CSIR-NEIST/NGRI Seismological study:
Activities carried out by NEIST – A broadband seismic network of 5 seismic stations has been installed surrounding the blowout location for monitoring the seismic activity, if any. An Accelerograph has been installed at Baghjan EPS to monitor the ground tremors, if any and also to estimate the effects on the nearby area due to tremors. Simultaneously, geophysical survey is being carried out with instruments, viz. Resistivity meter, Proton precision Magnetometer and VLF (Very Low Frequency) meter to understand the subsurface activity. InSAR studies are being carried out to observe the subsidence, if any. Analysis of data will be carried out in Jorhat and Hyderabad.
Preparation for Capping the Well:
 OIL CMT Water Pump #01&#02: Tested both the water pumps and delivered water up to 12" delivery header.
 ONGC CMT Water Pump #01: Testing of ONGC Water Pump#01 completed successfully.
 ONGC CMT Water Pump #02: Laying of 12" delivery line with header of the pump is completed. Connection of the delivery lines and other accessories is in progress. Connections of Radiator & Fan Assembly of ONGC Water Pump#02 are in progress.
 Fabrication of BOP Skid: Fabrication of BOP skid has been completed. Fabrication of Heat Shields: Fabrication of additional 3 nos. heat shields has been completed. Fabrication of Heat Shields for Bulldozer and Excavator is in progress.
 Transferring of Materials to Site: Transferred 02 No of 1000 gpm Fire Monitors (OIL-CMT) fixed inside heat shields and 70 No of 4" x Water Hoses inside hose-bin to Baghjan#5. Transferring of the other tested equipment and materials are under way.
Inspection of Equipment: Alert team is inspecting the equipment at OIL CMT Yard with ONGC-CMT and OIL Technical team before transferring to the site. Retesting of choke manifold is in progress.
 Development of Area for Temporary Workshop Facility: Civil work for development of area near Baghjan EPS is completed.
 Equipment/Material on Transit: Many important equipment/ materials are on transit. Consignments are delayed on transit due to ban on day time movement of heavy vehicles.
Relief and Rehabilitation
 Surveys for Assessment of damage for compensation by the committee constituted by
District Administration are in progress. Assessment of 485 families completed in Doomdooma and Tisukia Circle.
 A Paediatric Medical Camp was conducted yesterday by OIL Hospital at the Relief Camps at Baghjan Dighulturrang School, Gateline LP School and Palong Line School. Law and Order/Bandhs/Blockades etc.
 Due to a Bandh in Tinsukia today, movement of men and material has been affected to the
site.
 Blockade in producing oil & gas wells has been lifted in few areas on 23-06-2020. Blockade still continues at few other locations affecting the production. Blockade at one drilling location and one workover location has been lifted on 23-06-2020, while blockade still continues at one more drilling location and three workover locations.
Impact on Oil/Gas Production due to Protests
 Due to stoppage/blockades, there was production loss of 103 MT of Crude Oil and 0.14MMSCM of Natural Gas as reported on 23-06-2020. Operations were disrupted in 15 Oil
wells and 1 gas well. Cumulative production loss since 27th May, 2020 due to bandhs and
blockades: 8394 MT Crude oil, 10.7 MMSCM of natural gas.
Government News