Steel Industry to witness good growth in coming years
Sep 24th, 2015 11:46 am | By
ThenewsmanofIndia.com
| Category:
LATEST NEWS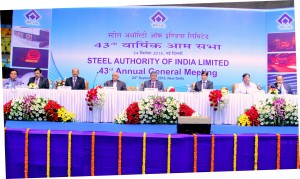 New Delhi, 24th September, 2015: Addressing the 43rd Annual General Meeting held here today, Secretary (Steel) with Additional Charge, Chairman SAIL, Rakesh Singh said that, "Even while Vision-2025 for the Company is being given final shape, action on some of the key projects in this road map have been initiated. Work on installation of a state of the art 3.0 MTPA Hot Strip Mill at Rourkela Steel Plant has started." He also added that, this mill will enable production of high quality HR coils including high strength API grades (upto API X 100), auto body grades and other special value added steels. Expressing optimism over SAIL's relentless drive to fast-track its Modernization & Expansion Plan (MEP) he said that, "projects worth Rs 10,200 Crore were commissioned in 2014-15, which is the highest for any year since inception." He also mentioned that during FY 14-15, capital expenditure of Rs 6,840 Crore has been incurred and for FY 15-16 capex of Rs 7,500 Crore is planned.
Touching upon the steel industry's global scenario, he said the world's finished steel consumption rose marginally in 2014 to 1537 MT, recording 0.6% growth over 2013. China registered a negative steel demand for the first time since 1995 and its exports registered an increase of 51% over 2013. The domestic sector was largely affected by these developments.
Outlining the stress experienced by domestic steel industry due to various reasons, Singh said, "Indian steel prices had to be adjusted in line with international markets resulting in a steep decline in realisations since Aug'14. This has impacted performance of the domestic steel producers." Clarifying that SAIL was also no exception to this, he mentioned, "the Company's net profit was down largely due to the lower net sales realization resulting from a subdued market in the second half of the last fiscal." However, he added that, "Indian economy has been on the recovery path. Government's focus on infrastructure augurs well for the Indian steel industry. We are confident that good growth would be witnessed in domestic steel consumption in the coming years, bringing an end to the stagnant demand scenario."
Speaking about the Company's production, he said, 15.4 million tonnes (MT) of hot metal was produced in FY 14-15, registering an increase of 7% over FY 13-14 and saleable production was 13.5 MT which was 3% higher than the previous financial year. The Company achieved the highest ever Labour Productivity (LP) of 302 TCS/Man/Year in 2014-15. Shareholder's approved a further dividend of 2.5% for the current fiscal taking the total to 20% of the paid up share capital.