TG Deck Casting: one more Milestone caved of Khurja S.T.P.P
Feb 22nd, 2022 8:17 pm | By
ThenewsmanofIndia.com
| Category:
LATEST NEWS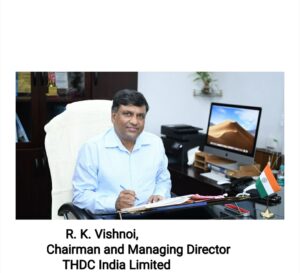 (THE NEWSMAN OF INDIA.COM)
THDCIL is implementing 1320 MW Khurja Super Critical Thermal Power Project at Khurja in Distt. Bulandsehar, UP. The work of Turbine Generator and associated packages of the project was awarded to BHEL on 03rd Oct'2019 and is progressing at a satisfactory pace on multiple fronts.
The construction of civil structure for Turbine Generator at thermal power plant is crucial in respect of the stability and extreme vibrations generated in the system as a result of unit operation. The civil structure for Turbine Generator mainly consists of casting TG Raft, Columns (16 Nos.) and TG Deck.
The TG Deck, one of the most complicated RCC structure in a thermal plant has numerous embedment/inserts in it to facilitate efficient fixing of the Turbine Generator and other equipment in addition to highly dense reinforcement. The preparatory works for casting the deck took about 3-months' time. Total 546 Mt of reinforcement and 40Mt embedded/ inserts have been placed in the deck. It took 30 hrs to complete casting of total 1154 cum of concrete in TG Deck which started on 28th Jan'2022.
Despite of severe adverse weather conditions of unprecedented intermittent rains cold and fog and Covid-19, the project has managed to cast the TG Deck in a very efficient time schedule of 7 ½ months against scheduled time period of 8 ½ months. The project team has placed one more cap in its feather by achieving this milestone.