The Absolute Leaders – The women power of India
Mar 8th, 2021 6:49 am | By
ThenewsmanofIndia.com
| Category:
SPECIAL NEWS COVERAGE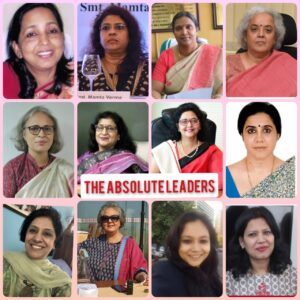 (THE NEWSMAN OF INDIA.COM)
By Pinky Ansari; International Women's Day is a global day celebrating the social, economic, cultural, and political achievements of women. The day also marks a call to action for accelerating women's equality. Marked annually on March 8th, International Women's Day (IWD) is one of the most important days of the year to celebrate women's achievements. THE NEWSMAN OF INDIA.COM Wishes A Very Happy Women's Day to all the incredible women for their great contribution to this world. On the occasion of International Women's Day March 8th, THE NEWSMAN OF INDIA.COM takes an opportunity to publish the profiles of some of the incredible women who are serving in different organization with their incredible services.

Dr. Amita Prasad is the Chairman of Inland Waterways Authority of India, which is an arm of Ministry of Shipping. India has about 14,500 km of navigable waterways which comprise of rivers, canals, backwaters, creeks, etc. About 55 million tones of cargo is being moved annually by Inland Water Transport (IWT), a fuel – efficient and environment -friendly mode. Dr. Amita Prasad is 1985 batch Karnataka cadre IAS officer, Dr. Amita Prasad studied in Patna Women's College, She did her Masters of Philosophy from Delhi, Dr. Amita Prasad as a civil servant, served in West Bengal for about five initial years of her services, she got the Karnataka cadre, Dr. Amita Prasad once revealed in an interview that she has been inspired by the father of the nation "Mahatma Gandhi", under the headship of Dr. Prasad. There has been many feather added to the organization, Traffic on Inland Waterways has witnessed exponential growth in CAGR of 19% and reached to 73.6 million tons in the year 2019-20 with an expenditure of 818 crores. IWAI aims at increasing the modal share of freight movement through IWT from 2% to 3% & traffic volume to ~120 million tons by FY 2030.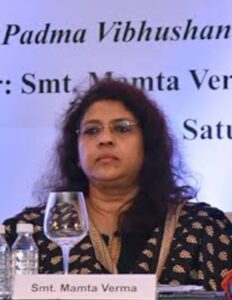 Ms. Mamta Verma is the IAS Officer of Gujarat cadre 1996 batch. Ms. Mamta Verma is presently posted as Secretary (Tourism, Devsthanam Management, Civil Aviation & Pilgrimage) Govt. of Gujarat. Gujarat has been always a paramount tourist destination in the country, Gujarat Tourism has recently added some new tourist attractions namely Arogya Van, Ekta Mall, Children's Nutrition Park and Sardar Patel Zoological Park/ Jungle Safari, near the Statue of Unity. India's first water aerodrome and India's first seaplane services launched by PM Modi is from Kewadia to Ahmedabad. Also Girnar Ropeway project (the longest temple Ropeway project ) in Junagadh is major attraction for tourists. Under the initiatives of Ms. Verma, The Gujarat Tourism has made every effort to develop the entire tourist destinations of the state as world-class tourist points. there has been continues efforts to upgrade the facilities for the tourist, The Statue of Unity draws large number of foreign tourists along with domestic visitors from all over India to Gujarat – the home state of Mahatma Gandhi, the Father of Nation. It is renowned for its beaches, temple towns and historic capitals. Wildlife sanctuaries, hill resorts and natural grandeur are gifts of Gujarat. And sculpture, handicrafts, arts, festivals also make the state rich.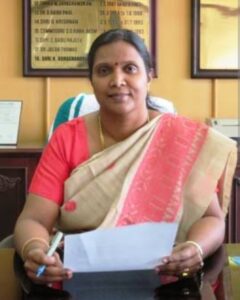 Dr. M. Beena, IAS a Doctor by profession, is the Chairman, Cochin Port Trust. Dr. Beena belongs to Kerala Cadre of Indian Administrative Services from 1999 batch. She has served in various capacities in the State including Assistant Collector, Sub Collector, Director of various departments. She has also served as District Collector of Thrissur and Ernakulam. She was the Managing Director, KSIDC and CEO, Smart City Trivandrum prior to joining Cochin Port Trust. She was also the Managing Director to the Roads & Bridges Development Corporation, Vyttila Mobility Hub, Kerala Books & Publications Ltd and Food & SUPPLYCO. During her about two decades of services, she had multifaceted experience in various sectors like Infrastructure development, Transportation, Industrial Development, Airport cargo handling, financial service etc.

Mrs. Soma Mondal, assumed the charge of Chairman, SAIL on 1st January, 2021. Smt. Soma Mondal has the distinction of not only being the first woman Functional Director of SAIL, but she is also the first woman Chairman of the Company. A graduate in Electrical Engineering from National Institute of Technology, Rourkela, in 1984, she has over 35 years of experience in the metal industry. She commenced her career as a Graduate Engineer Trainee at NALCO and rose through the ranks to take over the mantle of Director (Commercial) at NALCO. She joined SAIL in March, 2017 as Director (Commercial). At SAIL, she spearheaded the implementation of the marketing strategies, which witnessed SAIL increasing its sales and expanding the market reach progressively year on year. SAIL achieved best ever sales volume consecutively for the three Financial Years from 2017-18 to 2019-20, and the momentum is still continuing in the current financial year of 2020-21, despite the challenges posed by COVID-19.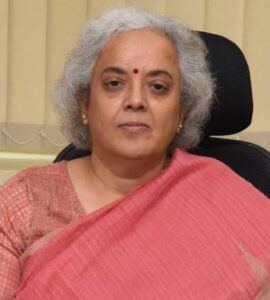 Mrs. Tajinder Mukherjee is the Chairman-cum-Managing Director, of National Insurance Company Limited; Smt. Mukherjee has over 35 years of experience in the General Insurance Industry. She holds a Bachelor's Degree in Commerce from the University of Delhi and is also a Fellow in Insurance from the Insurance Institute of India. She joined the United India Insurance Company as a direct recruit officer in the year 1983. In United India she worked in various capacities in direct operations at Delhi, Kolkata and Mumbai before joining New India Assurance Company in 2012 as DGM. During her tenure in New India Assurance as DGM and GM she held various portfolios including Health, Liability, Reinsurance and Property. She has actively contributed to key industry initiatives like PPN Network, Indian Nuclear Pool formation and review of Reinsurance Regulations.

Msr. Rajni Hasija is the Chairman & Managing Director, L/A and Director (Tourism and Marketing) Of Indian Railway Catering and Tourism Corporation. Rajni Hasija is an officer of Indian Railway Traffic Service (IRTS) of 1989 batch. She is a science scholar with an M.Phil from Delhi University. She also possesses a post graduate diploma in Human Resource Management and a degree in Law. In her illustrious career in Indian Railways spread three decades, she has worked in various managerial capacities in various divisions, zones as well as various Public Sector Undertakings and has extensive experience in the field of IT, marketing, operations and planning over Indian Railways. She has also been associated with IRCTC in the capacity of Group General Manager handling IT business segment and also overall in-charge of an entire zone. Mrs. Hasija had a pioneering role in the inception and development of the internet ticketing site of railways 'www.irctc.co.in'. With her sound technical knowledge, organizing and planning skill and ability to communicate with her peers and team, she has successfully completed very challenging and time-bound projects for IRCTC, which ranged from planning and execution of the dynamic online cum counter ticketing platform for Commonwealth Games 2010 to the successful of Maharajas' Express Luxury Tourist Train – the flagship tourism product of IRCTC.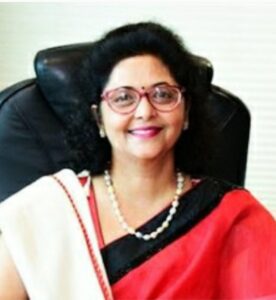 Mrs. Geeta Kapur, is the Director (Personnel) SJVN Limited., Mrs. Kapur is a Post Graduate in Management from Himachal Pradesh, University, Shimla. She has more than 3 (three) decades of experience in core areas of Human Resource (HR), out of which two and a half decades in SJVN ltd.. She started her career with Punjab Wireless Systems (PUNWIRE) a Punjab State Industrial Development Corporation (PSIDC) owned concern in Mohali, Punjab. She was 1st woman officer to join the HR Team in 1986. She also happens to be the first woman Functional Director of the Company. During her tenure in SJVN, in addition to policies and defining appropriate standard operating procedures, she played a vital role in Wage Settlements with Unions since inception. As a Head of Policy Section, she implemented Pay Revision applicable to Executives and Board Level Executives w.e.f. 01.01.1997 and 01.01.2007. Drawing inspiration from the concept of variable pay introduced by DPE w.e.f. 01.01.2007, she headed the section which introduced the concept of Balanced Score Card (BSC). Thus, driving a strategic performance management framework to drive performance for payment of variable pay generally referred to as Performance Related Pay. The payment was based on three Parameters namely- MOU, BSC and Individual Contribution as a key differentiators.
Ms. Kalpana Kaul, Executive Director – Corporate Communication and Public Relations of Rural Electrification Corporation limited, Ms. Kalpana Kaul had a rich working experience in the power sector, she has recently been awarded as the 'Mentor of the Year in Corp Comm' for leading the corporate communication and public relations for team of REC on numerous successful campaigns. Also as a testament to the healthy culture that it begets at its workplace, REC Limited has bagged the 'Best Organization for Women Empowerment' award at the Women Achievers Summit and Awards in 2020. Ms. Kalpana Kaul brings the sound professional background, she worked with Power Finance Corporation Ltd., and ITDC limited.

Mrs. Deepna Mehta is the Dy. General Manager Corporate Communication at NTPC Limited. Mrs. Deepna did her studies from Jesus and Mary college, she is interest in Dramatics, Recitation and Sports. Mrs. Mehta is the key team member of NTPC ltd. Which is India's largest power utility with an installed capacity of 64,880 MW (including JVs), plans to become a 130 GW company by 2032. Established in 1975, NTPC aims to be the world's largest and best power major. NTPC has comprehensive Rehabilitation & Resettlement and CSR policies well integrated with its core business of setting up power projects and generating electricity.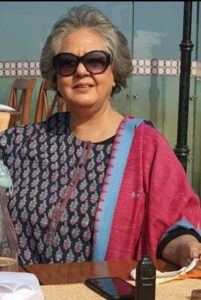 Ms. Upinder Kaur is the General Manager of Public Relations of HUDCO, she has an incredible working tenure in the organization with numerous achievements, HUDCO is a unique institution with its motto of "Profitability with Social Justice". A Public Sector Company, under the Ministry of Housing and Urban Affairs (MoHUA), HUDCO has been a key partner with the Government in building assets for the Nation. In its operations, HUDCO lays a considerable emphasis on the housing need of the "deprived" that is Economically Weaker Sections (EWS) and Low-Income Groups (LIG).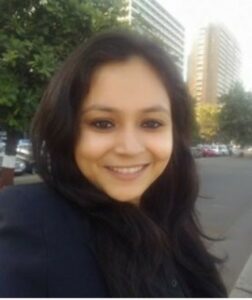 Ms. Sucharita Pradhan is a Corporate Communication specialist with over a decade experience in Public Relations, Social Media Management, Communication, Branding, Events & Publicity. Sucharita Pradhan presently is Senior Manager Corporate Communication and PR in RailTel Corporation of India Ltd., a public sector undertaking of Ministry of Railways, India as Media Spokesperson and Senior Manager (Public Relations) She is a team player who likes to create an energetic environment for team to co-create, co-operate and co-evolve. RailTel Corporation a "Mini Ratna (Category-I)" PSU is one of the largest neutral telecom infrastructure providers in the country owning a Pan-India optic fiber network on exclusive Right of Way (ROW) along Railway track. The OFC network covers all important towns & cities of the country and several rural areas covering 70% of India's population.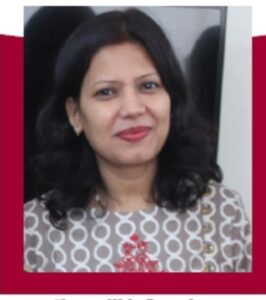 Ms. Ambika Singh, handles Marketing & PR department at Jawaharlal Nehru Port Trust (JNPT) Mumbai, A science graduate from M.S University of Baroda, the cultural capital of Gujarat and MBA in Marketing from Gujarat University and Post Graduate Diploma in Human Resource Management (PGDHRM) from Symbiosis, Ambika Singh started her career in media. JNPT. Organisation empowered her with more responsibility & authority, noticing her capabilities of delivering results. Jawaharlal Nehru Port Trust (JNPT) at Navi Mumbai is the biggest container handling port in India, accounting for around 50% of the total containerized cargo volume, across the major ports of India. Commissioned on 26 th May 1989, in three decades of its operations, JNPT has transformed from a bulk- cargo terminal to become the premier container port in the country. JNPT is connected to over 200 ports in the world and is ranked 33rd in the list of top 100 Container Ports globally.
(The source of information for the profiles taken for International Women's Day story is based on data available internet, pls send your feedback on the coverage at newsmanofindia@gmail.com)