The Saga of success for 10th World Hindi Conference, Shivraj, Desa and Mishra
Sep 12th, 2015 6:40 pm | By
ThenewsmanofIndia.com
| Category:
SPECIAL NEWS COVERAGE
Thenewsmanofindia.com exclusive report :
The 10th World Hindi Conference (WHC) is being organized from 10-12 September 2015 in Madhya Pradesh Bhopal jointly by Government of Madhya Pradesh and the Ministry of External Affairs, Government of India
The concept of World Hindi Conference
The tradition of the World Hindi Conferences began with the first conference having been organized in Nagpur in 1975. Since then, these conferences have achieved a global profile and momentum of their own. The subsequent nine World Hindi Conferences were organized in different world cities, namely, twice in Port Louis (Mauritius), twice in India, Port of Spain (Trinidad and Tobago), London (UK), Paramaribo (Suriname), New York (USA) and Johannesburg (South Africa). These Conferences have always attracted a galaxy of renowned scholars and followers of Hindi.
The 10th World Hindi Conference deliberate on a series of contemporary issues and subjects are discussed ways of expanding the horizon and common use of Hindi in the areas of science and technology, Information Technology, Administration and foreign policy, law, media etc.
The 10th World Hindi Conference success story that roams around three MP CM and his team Ministers, Bureaucrats etc, but is was observed from a close aspect that there were three persons who played a key role in organizing and executing the task of this very prestigious global event.
They were non other then but

1.Shivrah Singh Chauhan, Chief Minister of Madhya Pradesh himself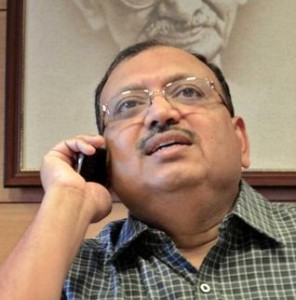 2.Anthony J C Desa, who is an IAS officer of 1980 batch and Chief Secretary of Madhya Pradesh core team member of CM
3.S K Mishra who is an IAS officer of 1991 batch and Principle Secretary to Chief Minister and Public Relation Department, who is considered as the most efficient bureaucrat and great helping hand to CM of MP.
In the history, probably it's the first ever such global event that has been organized by Govt. of Madhya Pradesh in association MEA Govt. However critics had apprehension taking its smooth and peaceful accomplishment into consideration and it was widely propagated also. But eventually the overwhelm success of 10th World Hindi Conference has amazed every one.
Since several months CM and his team member were fully engaged and occupied in the preparation of this Hindi Conference with a combined but single objective to keep the name of Madhya Pradesh as high as it is expected from the world. CM Shivrah Singh Chauhan, SC Anthony Desa and PS to CM, S K Mishra were on job 24×7 specially in the last fortnight of this conference they were so involved in given the final touch to this global event, many at times these people escaped their meals they didn't not go to home but remained busy although to make 10th World Hindi Conference a big happening and grand successful show. Finally their dedication, commitment towards their duty yield hopefull result and the day of 10th September 2015 arrived and the conference begun by the hands of country's Prime Minister Narender Modi which added to it a great meaning. Finally this global Hindi conference turned out to be a big hit and all participants, invites and rest of the people who had come from different countries of the world they gave a big round of applause to Madhya Pradesh Govt. for setting an example in organizing such prestigious event and establishing the goodwill not only of MP and India as a whole.