Union Minister Giriraj Singh launches GNFC Amino Protein to boost crop production
Jun 28th, 2018 2:39 pm | By
ThenewsmanofIndia.com
| Category:
LATEST NEWS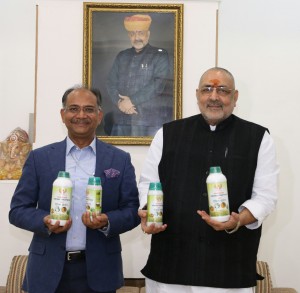 (THE NEWSMAN OF INDIA.COM)
New Delhi, 28th June 2018: Gujarat Narmada Valley Fertilizers & Chemicals Limited (GNFC) will market amino protein under brand name "Narmada Amino Protein". Gujarat based chemical and fertilizer major has joined hands with Bhartiya Harit Khadi Gramodaya Sansthan (BHKGS) for this unique initiative.
GNFC's Narmada Amino Protein is a mixture of amino acids with total amino acid mixture greater than 13% and will provide balanced nutrition of amino acids and trace elements obligatory for extensive root & shoots development of plants. This will further optimise metabolism, increased flower & fruit setting and thereby higher crop yields with improved quality and increased shelf life of produce.
GNFC's Narmada Amino Protein will be beneficial for the growth of cereals, pulses, oilseeds, cotton, vegetables, fruits and plantation crops. The product is quite convenient to use by simply mixing 1.5- 2.0 litre per acre in 200-250 litre water and applied through foliar spray or through drip irrigation.
BHKGS which has an amino acid plant at Khanwan in Bihar will produce amino protein from cow urine and human hair which will be marketed by GNFC across India through its 15000+ well established fertilizer distribution network and also through GNFC's own Narmada Khedut Sahay Kendra (NKSK).
Giriraj Singh, Minister of State for Micro, Small and Medium Enterprises in the Government of India today launched the product in Delhi. Addressing at the occasion he lauded the efforts of GNFC and BHKGS, for its potential to provide employment opportunities to rural farmers and cattle owners.
There are several benefits of using amino protein made from cow urine such as considerable effect on the vegetative growth at different concentrations, greener alternative to synthetic chemicals which are expensive and pose potential danger to the farmers, marketers, consumers, and environment. Moreover cow urine being readily available is a much cheaper raw material compared to chemicals used conventionally to produce amino proteins.
On this occasion Dr. Rajiv Kumar Gupta, IAS MD, GNFC said "This effort will help in realising Prime Minister's vision of doubling farmers income by 2022".