Nature's Essence: Launch of First GNFC Neem Parlour in Surat
Mar 19th, 2018 3:11 pm | By
ThenewsmanofIndia.com
| Category:
LATEST NEWS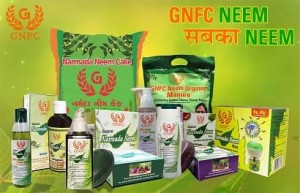 (THE NEWSMAN OF INDIA.COM)
Gujarat, March 19, 2018: Gujarat Narmada Valley Fertilizers & Chemicals Limited (GNFC) inaugurated its first Neem Parlour in Lake View Garden, Piplod, in Surat. This parlour was inaugurated by Kishorbhai Kanani (Kumar), Minister of State Health and Family Welfare, Medical Education, Govt. of Gujarat, yesterday. This is an exclusive outlet of neem based products of GNFC Ltd in the city of Surat. GNFC Ltd, in order to fulfil Prime Minister's vision of 100% Neem coating of Urea, adopted an innovative multi-dimensional socio economic 'Neem Project' to meet the demand of neem oil for urea coating and established the network of rural women and other organisations for neem seed collection.
As a part of forward integration of this unique Neem Project, GNFC undertook to manufacture Neem based products like Neem Soap, Neem Oil , Neem Hand wash, Neem Shampoo, and Neem Nite. GNFC has launched these products in the market and intend to aggressively expand the reach of these products by opening new outlets as well as offer distributorship and franchise for new stores. To take the benefits of Neem to every door step, GNFC has also collaborated with Gujarat Civil Supply Corporation Ltd for facilitating the availability of Neem product through its 17000 Fair Price Shops and has opened 21 Neem Parlours till date. Also GNFC neem products are available on various e-commerce portals like Amazon, Flipkart, Snapdeal. To further expand the reach of GNFC Neem products in Surat, 11 more such parlours will be setup, where all GNFC Neem based products will be available.
Speaking on the occasion, Minister Kishorbhai Kanani (Kumar), appealed to the citizens of Surat to help these rural women in earning their livelihood by buying Neem based products. He also appreciated the efforts made by GNFC in success of an innovative multi-dimensional socio economic Neem Project. Mayor of Surat Smt. Asmitaben Shiroya, Dy. Mayor Shankarlal Chevali, Dy. Commissioner J. M. Patel and Corporaters of Ward No. 21,22, and Garden Superintendent of Lake View garden also joined the inauguration of the parlour. More than 4.5 lakhs women have benefitted from the project and additional income of INR 45 Crores has been generated by GNFC Neem project under the incisive leadership of Dr. Rajiv Kumar Gupta IAS Managing Director of GNFC.