Sensitivity to the Environment is Central to NTPC's Growth and Performance – Gurdeep Singh CMD, NTPC
Sep 20th, 2016 10:44 am | By
ThenewsmanofIndia.com
| Category:
LATEST NEWS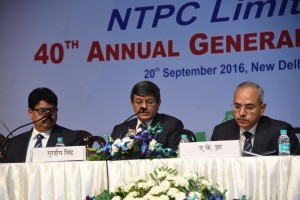 NTPC is one of the engines of economic growth. The more the economy grows, the greater the opportunities for NTPC. Environmental sustainability will be our focus area and NTPC remains committed to take care of the society, especially the community in the neighborhood of its business units by improving the quality of life of the people and promoting inclusive growth said Gurdeep Singh, CMD addressing shareholders at the 40th Annual General Meeting of the company held in New Delhi today. He said India is the fastest growing major economy in the world with a huge potential appetite for power consumption. Shareholders may appreciate that on 9th September 2016, the actual energy demand met in the country was an all time highest at 3,539 MU and NTPC (along with group entities) contributed 866 MU. Thus, green shoots are visible as far as upswing in power demand goes and this is in line with our long held expectations of growth Shri Singh said. All the Directors on Board of NTPC were present on the occasion.
The installed capacity of NTPC Group today stands at 47,228 MW, which includes 800 MW of hydro, and 360 MW of solar generation capacity.Company achieved an all time high stand alone CAPEX of ₹ 25,960 crore exceeding the MoU target of ₹ 23,000 crore. NTPC Group CAPEX stood at ₹ 32,091 crore in Fy16.
Various projects of NTPC having an aggregate capacity of around 24,000 MW are under implementation at 23 locations across length and breadth of the country. This includes 4,050 MW being undertaken by joint venture and subsidiary companies. This translates into a CAPEX of about Rs 1,60,000 crore. Out of the total capacity under implementation, 1329 MW is based on diversified sources of renewable energy. The Company is quickly moving towards its ambition of achieving a solar portfolio of 10 GW, out of the 100 GW target of GoI by 2022.
NTPC has moved forward on coal freight rationalization thereby reducing coal transportation costs. With improved domestic coal supplies, company has been able to minimize import of coal. With these steps, we have been able to reduce the tariff by 14 paise (~4.3%) in Q1 FY17 as compared to Q1 FY16 he said.
Shri Singh said focus areas of CSR in NTPC are health, sanitation, drinking water, education, capacity building, women empowerment, social infrastructure development, and support to differently-abled persons. NTPC spent ₹491.80 Crore during the financial year 2015-16 towards CSR initiatives, which is well-above the mandated 2% of Profit After Tax he informed.
During the year, Company contributed to the "Swachh Vidyalaya Abhiyan by making available about 29,000 toilets in 16,000 government schools in far-flung areas for the benefit of students, especially girl children, covering 82 districts in 17 States across the country he said
NTPC is supporting "Skill India Mission" of the Government of India through MoU with National Skill Development Corporation (NSDC) and National Skill Development Fund (NSDF) under the Ministry of Skill Development and Entrepreneurship. Company will help develop a large number of multi-skill centers and provide vocational training to about, 30,000 youth around NTPC business units with special focus on the Eastern Region to help the youth become employable.