Stakeholders Conference & Pre-bid meeting on Regional Connectivity Scheme – Ude Desh Ka Aam Naagrik
Nov 11th, 2016 2:35 pm | By
ThenewsmanofIndia.com
| Category:
TOP STORIES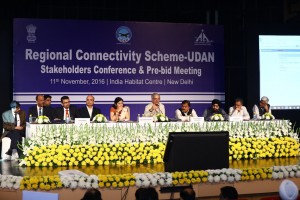 Thenewsmanofindia.com
New Delhi,11th November, 2016: New Delhi, 11th November, 2016 : Ministry of Civil Aviation holds Stake Holders conference/pre-bidding meeting on 11th November, 2016 at India Habitat Centre, Lodhi Road, New Delhi.
Regional Connectivity Scheme -UDAN has been launched by P. Ashok Gajapathi Raju, Minister of Civil Aviation on 21stOct, 2016 and the final RCS is available on MOCA web site (please visit web site;http://www. civilaviation.gov.in click view all "In Focus"). Objective of RCS is to facilitate/ stimulate regional air connectivity by making it affordable. Regional air connectivity is envisaged under RCS by supporting the Selected Airline Operator(s) through concessions by Central Government, concerned State Government(s) & airport operators to reduce the cost of airline operation on RCS routes and financial (viability gap funding i.e. VGF) support to meet the gap, if any, between cost of airline operation and expected revenue on such routes. A selected airline operator will be identified to operate on RCS route or network, on the basis of evaluation of initial proposal(s) and counter proposal(s) for VGF, received from airline operators who are having valid Air Operator Permit issued by DGCA.
Airports Authority of India (AAI) has been designated Implementing Agency under the Scheme. Notice Inviting Proposals (NIP) for first round has been issued and published in newspapers. Proposal Due Date (PDD) is on 05/12/2016 upto1730 hours(Please visit for registration web page; http://www.aai.aero/public_notices /aaisite_test/RCS-na.jsp and click E-tendering Bidding Process of RCS or http://www.mstcecommerce.com/ eprochome/rcs/index. jsp.
Presentation on RCS-UDAN was made by Shri Jayant Sinha,Minister of State for Civil Aviation and R.N.Choubey, Secretary, Civil Aviation.MSTC who was engaged for development of e-bidding portal for RCS-UDAN made presentation on e-bidding process during the conference. Views of the State Government also taken in the conference.