Steel Minister dedicates the new Long Rail Welding Complex in Bhilai to nation!
Jul 6th, 2016 9:49 am | By
ThenewsmanofIndia.com
| Category:
LATEST NEWS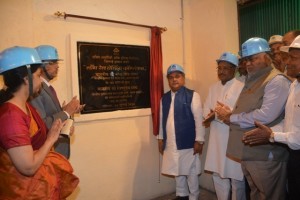 New Delhi/Bhilai, 05 July, 2016: Bhilai Steel Plant's (BSP) new Long Rail Welding Complex which is a part of BSP's ambitious 7 MT Modernization Programme was dedicated to the nation by Union Minister for Steel and Mines, Narendra Singh Tomar on Monday, July 04, 2016. Hon'ble Union Minister of State for Steel and Mines, Vishnu Deo Sai,State Minister for Higher Education, Govt. of Chhattisgarh, Shri. Prem Prakash Pandey, Secretary Steel, Smt. Aruna Sundararajan, Collector, Durg, Smt. R. Shangeetha, DIG, CISF Smt. Shikha Gupta, SP, Durg, Amresh
Mishra, Chairman, SAIL, P.K. Singh and other senior SAIL officers including Director (Projects & Business Planning), G Vishwakarma and CEO, Bhilai Steel Plant,S. Chandrasekaran were also present during the event. The 1.1 MTPA new Rail Welding Line with state-of- the-art technology is designed to produce 260 m long rail welded panels and is installed at a cost of Rs. 263.16 crore. Being one of the largest rail welding complexes in the world, this complex has proven technology for world class rail welding. It is equipped with modern facilities such as fully automatic Flash Butt Welding Machine to weld rails of 130 metre length, which will be produced from the new Universal Rail Mill, and fully automated long rail handling facility. With state-of- the-art head hardening facilities of welded joint, welding of head hardened and micro alloyed rails can also be carried out in this new complex. Presently,26 m rails from existing Rail & Structural Mill of BSP are being welded in the new Rail Welding Line to produce the 260 m long rails. SAIL's Bhilai Steel Plant is the sole supplier of world class rails to the Indian Railways upto lengths of 260 metre.
Addressing Bhilai collective, Tomar said, he was highly impressed with what he saw in Bhilai Steel Plant. He said, "The nation has lot of expectations from SAIL and contribution of SAIL towards nation building is increasing by the day." Expressing confidence on the work progress, the minister said that the ongoing modernization and expansion of Bhilai Steel Plant would soon be completed and production from the Plant would consequently increase. Shri Tomar expressed confidence that SAIL would not stop at the 23 MT capacity after its current Modex programme but would go on to achieve 50 MT capacity by year 2025.