"TRIFED" Promoting sustainable livelihood systems for tribals by marketing development and ensuring remunerative price for their products
Sep 19th, 2017 7:42 am | By
ThenewsmanofIndia.com
| Category:
LATEST NEWS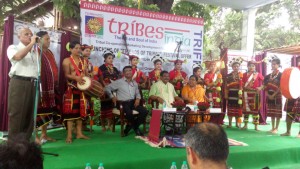 THE NEWSMAN OF INDIA.COM
The Tribal Cooperative Marketing Development Federation of India (TRIFED) came into existence in 1987. It is a national-level apex organization functioning under the administrative control of Ministry of Tribal Affairs, Govt. of India. TRIFED has its registered and Head Office located in New Delhi and has a network of 13 Regional Offices located at various places in the country. TRIFED is set up to Promote sustainable livelihood systems for tribal people by marketing development and ensuring remunerative price for their products, provide minimum support price and value addition of Non-Timber Forest Produce (Minor Forest Produce), empower them through meticulous capacity building, augment their resources substantially, Develop marketing partnership with Central/State Government agencies and other development partners through establishing convergence and coherence in activities. To be driver of development for tribal people of India through sustainable and comprehensive marketing support of their products and achieving convergence and coherence with other development partners working in this field to enhance their income and improve the quality of their life.

The activity of TRIFED is divided into two categories :
Minor Forest Produces(MFP) Development
MFP Development
MSP for MFPs
R&D of MFPs
Retail Marketing Development
Retail Marketing Development
Handicraft / Handloom development Training
Tribals are known to be the autochthonous people of the land. Tribals are often referred to 'adivasi', 'vanvasi', 'pahari', 'adimjati', 'anusuchit janjati', etc. India has the second largest tribal population in the world, the first being Africa and tribal Communities are the integral segment of Indian society. India, with a variety of ecosystems, presents a varied tribal population throughout its length and breadth depicting a complex cultural mosaic. India is a home for large number of tribal people, known as "ADVASI". Nearly all the tribal people of India have been in almost continuous contact with their neighbours, who live by farming and a large number of specialized manual industries (Bose, 1971 : 2). This contact goes back, at least, to the days of the Ramayana and the Mahabharata; for in them there are references to tribal communities who are referred to as Jana. When, in his exile, Rama reached the borders of the forests of Central India, the land was introduced to him as the abode of the tribal people, Janasthana
TRIFED Managing Director
Pravir Krishn who has recently taken over TRIFED as Adl. Secy and Managing Director. There are much expectations on Krishn arrival at TRIFED. He is an IAS officer of 1986 batch, MP cadre who is quite renowned for his passion and dedication for whatever assignment he is involved with. During his in past posting Krishn has allways adds feather in the crown of those departments where ever he has served it is with impecable and result oriented abilities and passion. His role in TRIFED is more important due to his valued experience in Madhya Pradesh where Krishn served as Principle Secretary Small Scale Industry and Horticulture dept. also and earlier to this he has created history not only in MP but in all India level by setting extraordinary performance as PS Health of MP. Krishn successfully changed the entire scenerio of health depaetmemt of the state. During Pravir Krishn's tenure Madhya Pradesh state brought down IMR, MMR & TFR to the desired levels. Pravir's strategy referred to 'Quantum Jump' Strategy. Remarkable progress had been achieved in last years in MP. The MMR has gone down from 310/100000 to 227, the IMR has gone down 88/1000 to 73 and the TFR has gone down from 3.1 to 2.9. this all makes Pravir Krishn performer.
His presence in TRIFED awaits great initiatives for the department. Pravir Krinshn's campasion and mission fits into the Prime Minister Narendra Modi's dream INDIA MARCHING TO A GLOBAL POWER Of TOMORROW.
http://trifed.in/trifed/(S(yimwfccefyhqhs3ahdopfvar))/default.aspx